Annual Reports:
Comprehensive reports of activities throughout the proceeding years. The Annual Reports track the Office of Research's progress toward achieving it's goals.
Annual Research Funding:
UC Davis has a robust research portfolio spanning many disciplines and has been highly successful in obtaining extramural funding. The Sponsored Programs unit of the Office of Research helps negotiate, accept and administer research contracts and grants awarded to UC Davis researchers.
Sponsored Research Reporting:
Funding for research, provided by federal and private sources outside of the University. Terms and conditions accepted based on the performance of research.
---
Research Core Facilities Program Annual Progress Report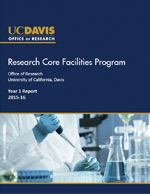 This report summarizes the Research Core Facilities Program key initiatives and outcomes for the fiscal year 2015 – 2016.
Research Investments in Science and Engineering Final Summary Report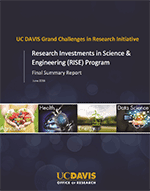 The Research Investments in the Sciences and Engineering (RISE) program was designed to launch new, globally competitive large-scale interdisciplinary research activity at UC Davis. Learn about the outcomes of this three year seed-funding program in the RISE program summary report.
Guide to Research Compliance for Principal Investigators and Department Administrators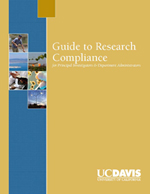 The Guide to Research Compliance for Principal Investigators and Department Administrators provides a single reference for all the accounting, safety and ethical guidelines that must be taken into consideration on sponsored projects.
The Research Recommendations Implementation Committee Report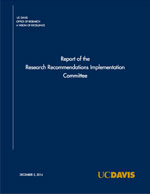 The Research Recommendations Implementation Committee (RRIC) was charged by Chancellor Linda P. B. Katehi in 2011 to advise the Vice Chancellor for Research on implementation strategies for the improvements recommended by five different reviews of sponsored research programs and technology transfer.
Chancellor's Blue Ribbon Committee on Research, 2010
The chancellor created a Blue Ribbon Committee on Research to plan how UC Davis can reach a higher level of prominence as a leading research university. The committee recommended changes to the UC Davis research enterprise to support a new culture of creativity, inquisitiveness, entrepreneurship, collaboration and risk-taking.
The Washington Advisory Group External Review of Research at UC Davis, 2010
The Washington Advisory Group, a higher education consulting company, was enaged by Chancellor Katehi to review UC Davis's research programs and make recommendations to boost the research enterprise at UC Davis.
UC Davis Core Facilities Report
This report by the UC Davis Core Research Facilities and Resources Committee attempts to identify all research core facilities on campus, evaluate their business models, examine how other universities manage their core facilities, and make recommendations on how the campus can strengthen research services to faculty, staff and students.