8 Benefits of Partnering with a Large Company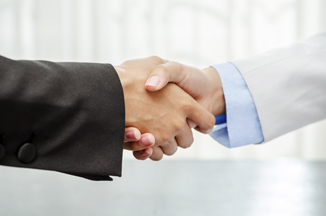 You've started a company based on your technology. Now what? For many, the next step is deciding whether to partner with a large company with the resources to get the innovation to market. Enter the recent UC Davis Biomedical and Engineering Entrepreneurship Academy, hosted by the Child Family Institute for Innovation and Entrepreneurship and sponsored by the Office of Research, the schools of medicine and veterinary medicine, College of Biological Sciences and Department of Biomedical Engineering. Keynote speaker Michelle Haven, SVP of business development and commercial alliances at Zoetis, the world's largest producer of medicine and vaccinations for companion animals and livestock, addressed the topic in a presentation titled "Securing a Corporate Partner Early: Living the Dream or Selling Your Soul?" Haven argued the partnership prospect is more living the dream than selling the soul. Potential benefits include:
Financial Stability

First and foremost, corporate partnerships bring capital to the table. Building a company takes money and big companies offer what is needed. With the added capital, companies also can offer access and connections to established sales and marketing distribution channels.
Remain Solvent

This is a given with financial stability.
Retain Ownership

Startups can negotiate ownership. Deals can run the gamut and not every deal requires giving up an equity stake.
Expand Market Research at Reduced Cost

Without market research, companies could miss valuable opportunities and large companies can provide the necessary information easily and cost effectively.
Enhance the Value of Your Innovation

A large corporation can help bring validity to data. The more data that can be generated, the better, and access to the resources of the corporation helps.
Build Credibility

An established company can give startups added validity. Big firms bring positive press, marketing and a new level of trust, which in turn builds brand credibility.
Fund Future Research

This might be related technology for what is being developed or developing the technology for a more lucrative environment.
Secure Future

Depending on the deal that's struck, startups can build in royalty costs or first right of refusal clauses to ensure future developments.
* Of course cons do exist and should be considered. They include: shared profits, loss of control, future limitations, isolation from end customers and more.
Share with: