UC Davis and the Exploratorium celebrate the new Coastal and Marine Sciences Institute
The Coastal and Marine Sciences Institute at UC Davis marked its recent launch with an evening of discussions and demonstrations at the Exploratorium this month.
The event brought together 200 alumni and other visitors for a sneak peek at current research coming out of the institute. More than 50 marine science faculty members and their students set up interactive exhibits on topics including coastal meteorology, restoring habitat, ocean acidification, larval dispersal and more.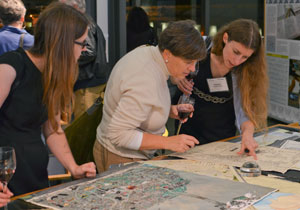 "CMSI was founded last year to consolidate and coordinate activities of marine sciences [at UC Davis] into one coherent package," said Rick Grosberg, evolution and ecology professor and founding director of CMSI, at the event. "We live in a remarkable place and our goal is to understand it better in connection to our coastal system."
CMSI assembles experts from more than 20 academic units and the Bodega Marine Laboratory for collaborative work and education. The institute also started an undergraduate degree program in marine and coastal science this year.
Grosberg said the organization next endeavors to create a two-way internship program with the Exploratorium.
Such a program would further build on the five-year partnership to collaborate on improving science communication and showcase the importance and potential impact of the cutting-edge research that is conducted at the university.
The university community now has the opportunity to participate through speaking engagements, demonstrations, discussion panels, joint research, staff and student exchanges, and co-development of hands-on exhibits.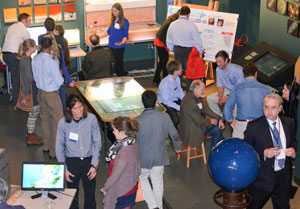 One permanent exhibit from UC Davis was part of the presentations from CMSI. The interactive world plankton table, on display in the museum since spring 2013, showed another area of focus for the university's marine science team.
"Tonight is thrilling because it's really the first big public event of this collaboration and the fact that we have students here showing their work is so much in keeping with the Exploratorium and our philosophy," said Robert Semper, associate director for the Exploratorium.
The Exploratorium could host similar events with UC Davis in other areas down the road, added Semper.
"Tonight we had marine science, and we are very interested in food and food science, genetics, and energy and its use," he said. "These are topics we want to explore and we know UC Davis is strong in all of them."