Speaking, Demonstrations and Discussion Opportunities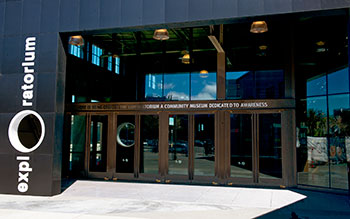 The Exploratorium offers an array of programs and events that are designed to stimulate the senses and provoke thoughtful discussion in a fun and engaging atmosphere. The UC Davis-Exploratorium partnership committee is accepting submissions for discussion topics for these programs, and encourage you to submit your ideas. Please be sure to examine the various types of programming and their past offerings to determine which would be best suited to your ideas.
Guidelines for Participation
Content should focus on pioneering research that complements the Exploratorium's goal of exploring how the world works through thought provoking, interactive and playful approaches.
Areas of particular interest include:
Data Visualization
Environmental Science
Social Science, learning research and decision-making
Art & Science
Gamification of Culture, Art, Health, and Science
Human Health
Living Systems (genetics and epigenetics)
Marine Sciences
Citizen Science
Neuroscience and the Brain
Nutrition and Poverty
Science of Plants and Biology (plant genomics and organic farming)
Sustainable Agriculture and Food Science (food microbiology, wine and beer fermentation)
Sustainable Energy