Office of Corporate Relations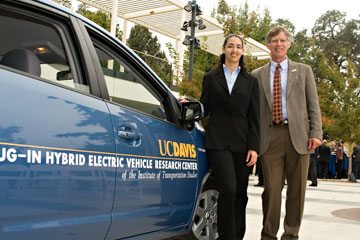 The UC Davis Office of Corporate Relations (OCR) serves as the front door to university resources for corporations and businesses.
As a top public research university, UC Davis excels in producing innovative and multidisciplinary research. By working closely with faculty, staff and campus leadership, OCR strives to build comprehensive and strategic partnerships within a rapidly changing economy. Whether you are interested in developing research collaborations, engaging with talented students or developing university technologies, the Office of Corporate Relations will help match your needs with UC Davis academic expertise.
What We Do
The mission of OCR is to develop, foster and manage strategic relationships with industry in a comprehensive manner that spans multiple interests across academic disciplines. To this end, our office plans and engages in corporate partnerships to support the mission of the university.
In coordination with academic and administrative units within UC Davis, OCR:
Manages and advances strategic relationships with companies that have interests crossing multiple colleges, schools and centers, and
Works closely with faculty, staff and campus leadership to build comprehensive relationships that provide mutual benefit to the university and industry partners.
Here are a Few Ways to Connect with UC Davis:
Educate Your Employees
Discover professional development and executive education opportunities to enhance your workforce
To see how your business can benefit from a UC Davis partnership, contact us today.