UC Davis' Venture Catalyst facilitates the translation of University research and technology by driving the development of new ventures.
UC Davis is known worldwide for its leadership in research. Each year this research leads to new innovations and technologies that are translated to the marketplace through UC Davis startup companies. Venture Catalyst drives the successful development of new ventures based on UC Davis intellectual property through its collaborations, programmatic activities, and outreach efforts.
Collaborations
Venture Catalyst collaborates closely with UC Davis stakeholders and resources such as InnovationAccess, the Foundation and Corporate Engagement, and the UC Davis Institute for Innovation and Entrepreneurship to directly support campus entrepreneurs developing university technology into new, viable ventures.
STAIR Grant
The Science Translational & Innovative Research (STAIR) Grant helps UC Davis technology move towards commercialization by funding translational research for which other sources do not exist. This will assist entrepreneurs to demonstrate commercial potential and proof of concept technologies being developed at UC Davis.
For more information, view the STAIR Grant page.
DIAL Grant (pilot program)
The UC Davis Data, Informatics & Application Launch (DIAL) Grant Program is a pilot funding program available in the 2017-18 fiscal year, funded by the Office of Research under the State of California's AB-2664 legislative initiative and managed by UC Davis Venture Catalyst.  The program's aims are similar to the STAIR Grant program, but with a focus on furthering the development of software, algorithms, code, or program prototypes with commercial potential.
For more information, view the DIAL Grant page.
START Program
The Smart Toolkit for Accelerated Research Translation (START™) Suite of programs equips UC Davis entrepreneurs with the tools needed to form and grow successful companies. The offerings of START™ Suite are open to all individuals and companies with a UC Davis affiliation (current faculty/student/staff and alumni). The START™ Suite includes:
For more information, view the START Program page.
To download the START Form, please click here.
Venture Catalyst's Handbook for Startup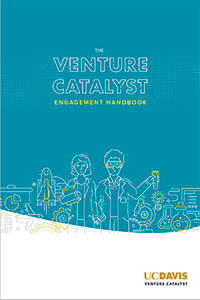 This handbook illustrates some of the resources and support available to faculty, students, staff and alumni interested in developing technology-derived startups, most of which will develop and are expected to grow within the Davis-Sacramento region and in proximity to the university.
Economic Engagement
Venture Catalyst engages with the Davis and Sacramento business, governmental and economic development community to highlight the development of technologies and ventures coming out of UC Davis that will drive tomorrow's regional job creation. Working closely with these partners, Venture Catalyst is invigorating the technology-based entrepreneurial ecosystem of the entire region.
Contact Venture Catalyst
For more information on Venture Catalyst and its programs, contact us directly.
To sign up for the Venture Catalyst newsletter, click here.
To view the Venture Catalyst newsletter archive, click here.
To request a Letter of Support (LOS), click here to download the form (note: the LOS form must be submitted at least three weeks prior to grant submission deadline).