UC Davis Affiliated Startups Win in Four of Six Categories at Sacramento Region Innovation Awards
by Lisa Howard on Thursday November 10, 2016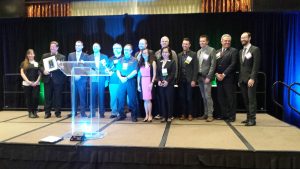 Three companies that were founded based on technology developed at the University of California, Davis and one company affiliated with the university through its UC Davis alumnus founder and CEO, received awards at the inaugural Sacramento Region Innovation Awards held November 4 in Sacramento. The 2016 program was presented by the law firm Stoel Rives LLP, accounting firm Moss Adams LLP and the Sacramento Business Journal. The awards, conferred in six different technology categories, celebrate local companies that have developed pioneering innovations with significant potential for regional economic impact.
"We are proud of the seven companies originating out of UC Davis technologies and the two UC Davis affiliated companies selected as finalists in this showcase of regional innovation and commercial impact," said Dushyant Pathak, Associate Vice Chancellor of Research and Executive Director of Venture Catalyst at UC Davis. "As a companion to the UC Davis Chancellor's Innovation Awards announced in June, the Sacramento Region Innovation Awards demonstrate the diversity and depth of technology based innovation driving economic impact in our region."
UC Davis affiliated winners by category:
Food and Agribusiness: Radio Frequency Pasteurizer by RF Biocidics — a food-safety solution that eliminates harmful contaminants from foods using radio frequency technology.
Hardware and Electronics: Linkbot by Barobo, Inc. — a programmable educational robot that can be customized with snap-on parts and STEM curriculum.
Medical and Health Technologies and Services: B. infantis by Evolve BioSystems  — a microbiome-based solution to establish, restore and maintain a healthy infant gut microbiome.
Sustainability:  FastOx Gasifier by Sierra Energy – waste gasification technology that transforms waste into clean, renewable energy, founded by UC Davis alumnus Mike Hart. The gasifier originally emerged out of the campus' Big Bang! Business Competition.
Additional UC Davis companies that were among the 17 finalists for the awards include: Tule Technologies, AstRoNA Biotechnologies, Molecular Matrix Musculoskeletal, Inc., ViVita Technologies, Inc. and DialSource, founded by UC Davis alumnus Joshua Tillman.   The program's selection committee reviewed more than 80 nominations submitted online through the Sacramento Business Journal. Committee members were drawn from the region's business, academic and technology sectors.
Click here for a complete list of the award winners.
Media contact:
AJ Cheline, UC Davis Office of Research, 530-752-1101, acheline@ucdavis.edu