UC Davis Sets New Record for Sponsored Research Funding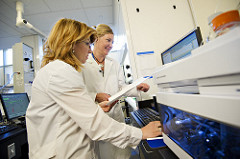 University of California, Davis, hit an all-time high for external research funding for fiscal year 2014-15, receiving $786 million.
The total represents an 11.5 percent increase from the previous year and a surge in support from the federal government by 13.4 percent year-over-year.
"This great achievement is a testament to our researchers who have expertise in a broad range of disciplines, enabling them to tackle the major challenges of our time. With this support, I know they will continue to make new discoveries and find solutions to some of the world's most pressing problems," said Chancellor Linda P.B. Katehi.
The record funding also brings the university closer to the chancellor's goal to increase annual research awards to $1 billion by 2020. Her 2020 Initiative includes focused support for continued growth through resources that enhance research, despite stagnant federal research funding.
UC Davis has implemented several programs to advance research, with an emphasis on leveraging the strong interdisciplinary strengths of the university. The Research Investments in the Sciences and Engineering program is one example where the university made a bold investment to assemble teams from multiple disciplines with the intent of developing transformative knowledge and technologies that address areas of vital concern such as food supply, health and economic distress.
"While funding for research across the UC system was flat, UC Davis posted more than $80 million gain – the largest amount for any campus," said Harris Lewin, vice chancellor for research at UC Davis. "The sustained investment in research infrastructure and programs over the past four years is beginning to show significant returns in terms of research funding and impact."
Led by Federal Sources of Funding
For the fiscal year ending June 30, 2015, awards from the federal government rose to $427 million from $376 million the previous year. The U.S. Department of Health and Human Services, which includes the National Institutes of Health, accounted for the largest source of funding with $206 million, up from $195 million last year. The next highest was the U.S. Department of State at $69.8 million, up significantly from $22.9 million a year ago. The National Science Foundation was third with $53.1 million.
Support from foundations increased to $66.1 million from $14.3 million last year.  Industry sponsored research was also up from the previous year, reaching $59.4 million, also a record for the campus.
Concentration in Life Sciences
The School of Medicine received the largest share of research grants at UC Davis with $264 million, followed by the College of Agricultural and Environmental Sciences at $155 million and the School of Veterinary Medicine at $114 million. Support for the College of Engineering surged by 57 percent to $85 million over the previous year.
Examples of grants awarded to UC Davis faculty in the past year include:
$100 million for the PREDICT program at the One Health Institute in the School of Veterinary Medicine from the U.S. Agency for International Development to identify and control emerging diseases among people, wildlife and livestock worldwide.

Principle Investigator: Jonna Mazet, professor of Medicine and Epidemiology

$18.75 million to boost international fruit and vegetable research from the U.S. Agency for International Development to bolster global food security.

Principle Investigator: Elizabeth Mitcham, director of the Horticulture Innovation Lab

$10 million to establish the Silvio O. Conte Center for Basic or Translational Mental-Health Research from the National Institutes of Mental Health. The new center will be one of only 15 in the country to study the origins of schizophrenia.

Principle Investigator: Cameron Carter, professor in the Department of Psychiatry and Behavioral Sciences

$4.7 million to better understand the underlying mechanisms involved in gastrointestinal health from the National Institutes of Health's National Center for Complementary and Alternative Medicine.

Principle Investigator: David Mills, professor in the Department of Food Science & Technology
Where funds are awarded over several years, but distributed in yearly increments, the money is counted in the year received.
Fueling Innovation and New Ventures
Research funding is not only essential to better understand some of the critical challenges that face our world, it fosters innovation, and in some cases, translation of discoveries into new commercial technologies. Last year alone, the Office of Research processed 229 new invention disclosures, 210 patent applications and 57 licenses that resulted from research at UC Davis. In addition, new technologies developed at UC Davis became the foundation for 13 startup companies.
Related articles:
UC Davis Provides Foundational Science to 13 Startups for 2014-15
http://research.ucdavis.edu/about-us/news-center/news-stories/13-startups/
UC Davis awarded record $750 million for research 2011-12
https://www.ucdavis.edu/news/uc-davis-reaches-750-million-fundraising-milestone
Research funds top $678 million
http://news.ucdavis.edu/search/news_detail.lasso?id=9607
Media contact:
• AJ Cheline, UC Davis Office of Research, 530-752-1101, acheline@ucdavis.edu