UC Davis Venture Catalyst is the starting point for guidance to faculty who want to start companies based upon their university research. The Venture Catalyst team can help evaluate the market opportunity, advise on strategies for commercial development of technology, and link faculty to legal and business development resources both inside and outside the university. Venture Catalyst cannot start a company for faculty (or for others) but UC Davis the team has experience and knowledge to guide the process and to connect faculty with external entrepreneurs and business service providers that can provide this service.
For a detailed discussion of the steps involved for a full-time Academic Senate faculty member making an invention and participating in the formation of a start-up company, see Faculty Roadmap for a Startup Company.
For information on recent startups that have emerged from UC Davis, please contact Venture Catalyst. Please also visit the Graduate School of Management's Center for Entrepreneurship, which promotes education in entrepreneurship and innovation for UC Davis.
Venture Catalyst's Handbook for Startup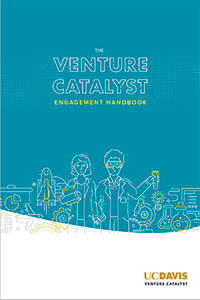 This handbook illustrates some of the resources and support available to faculty, students, staff and alumni interested in developing technology-derived startups, most of which will develop and are expected to grow within the Davis-Sacramento region and in proximity to the university.