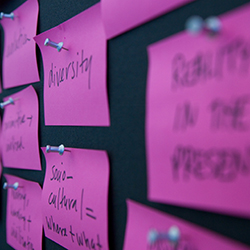 The Challenge
Bringing together teams of creative people from different fields to solve problems through better design and to study how interdisciplinary groups work.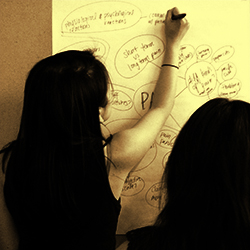 Why is public interest design important?
People are confronted daily by information, artifacts, and environments that are confusing, inaccessible, even potentially dangerous. In addition, problems with public documents, graphics, and sometimes entire programs and systems—from election ballots to the voting process, from hospital signage to communication flows within and among hospital teams—raise questions about the power and process of design: How might we use design to clarify information, enhance civic participation, and empower individuals to make informed choices? What does democratic design look like?
Our Approach
The UC Davis Center for Design in the Public Interest brings together a multidisciplinary team focused on the collective redesign of everyday things. We create accessible, people-centered design outcomes both for and with a diverse cross-section of the public. We focus our collective redesign of "everyday things"—artifacts, systems, and experiences—on projects related to civic engagement, community health, public safety, energy, and sustainability. These outcomes—including design tools, methods, prototypes, and best practices—are disseminated as open-source models for others to build on in order to develop artifacts, communications, and programs that resonate with broad audiences.
The center also provides a foundation for innovative design research and training at the leading edge of a growing movement to connect human-centered design with social good: We offer hands-on training and resources to students and partner organizations; present our "knowledge experiment" of cross-boundary communication and interdisciplinary work at academic conferences; publish findings in academic journals; and disseminate all outcomes of public interest projects as open-source models.
Our multidisciplinary team includes faculty, graduate students, and undergraduates from the humanities, arts, social sciences, and engineering, and works closely with community partners ranging from a rural health clinic to UC Davis Medical Center clinicians.
Impacts & Highlights
The Sexual Assault Prevention and Response Team
This pilot project focuses on creating educational materials and decision aids for sexual assault survivors and secondary survivors in order to identify, access, and navigate campus and community resources, aid in the recovery process, and help prevent sexual assault from occurring. Four students carried the project forward in Spring 2015 to completion in its second year.
The Evolution of Participatory Practices (EPP) Interactive Timeline
The EPP guide was made so new creators know how to access and work with our open-source files. The EPP project received a Silver award from the International Institute for Information Design (IIID) in year 1, and this year it is a part of a group show exhibited at nine international venues – in Austria, Croatia, Germany, Latvia, and the UK. The EPP team is aiming to engage a broad audience of user-contributors by presenting at exhibits like the Information Everything exhibit in Vancouver in June 2016, and by offering educational opportunities in the form of college courses.
Current Meta-Project: The Communicating Pain Project (CPP)
This project responds to one of the knottiest medical problems facing both patients and clinicians: the subjective nature of pain. On the one hand, pain is a crisis, and the more severe or confusing the pain, the greater the crisis becomes. At the same time, pain is difficult to communicate, and pain perception and communication vary across ages, genders, and cultures. Furthermore, how people perceive others' pain can be influenced by a number of subjective factors – cultural and individual, affective and individual – that can lead to some groups (minority and/or low income men, and women in all groups) to receive less care than they need.
Scholars in medical fields from psychiatry to surgery have studied this problem, and our project complements their expertise with out own as we ask what design can do. The use of opioid medications and outreach in the form of an Outpatient Radio are currently being tested to better understand and counteract chronic pain.
Core Team
| | |
| --- | --- |
| Susan Verba | Associate Professor of Design |
| Sarah Perrault | Associate Professor of University Writing Program |
| Bo Feng | Associate Professor of Communication |
| Suad Joseph | Distinguished Professor of Anthropology |
| Kwan-Liu Ma | Professor of Computer Science |
| Prerna Dudani | Junior Specialist of Design |
| Sumayyah Ahmed | Graduate Student of Computer Science |
| Yohei Kato | Graduate Student of Human Ecology |
| Patrice Soehnlein | Graduate Student of Design |
| Emily Alameida | Undergraduate Student of Technical and Visual Communication |
| Hanna Henry | Undergraduate Student of Design |
| Zackery Jones | Undergraduate Student of Design and Film Studies |
| Theadora Kaiser | Undergraduate Student of Design and Managerial Economics |
| Shinna Kim | Undergraduate Student of Design |
| Michelle Lee | Undergraduate Student of Design |
| Elisa Massenzio | Undergraduate Student of Design |
| Nima Rahni | Undergraduate Student of Design |
| Tracy Manuel | Undergraduate Student of Design |
| Karyn Kershaw | Undergraduate Student of Design |