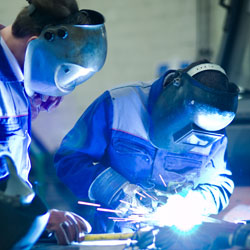 The Challenge
We need to know whether career and technical programs can improve the earnings and employment opportunities of California workers who do not complete traditional four-year college degrees.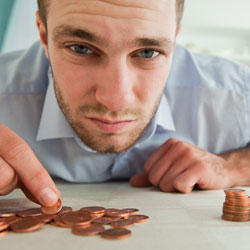 Why It Is Important
For the past thirty years, the economic fortunes of Americans with less than a four-year college degree have stagnated or fallen. We now live in a social and economic environment in which the lowest paid workers do not earn enough, even with full-time work, to push their families above the poverty line. Although many efforts have focused on increasing educational achievement, it is clear that encouraging traditional college enrollments in academic pathways is not sufficient. Despite higher than ever returns to education, the fraction of Americans completing traditional college degrees has not risen substantially in decades. Alternative means for worker training and skill development must be found, and national leaders are increasingly looking to vocational education programs, particularly at community colleges, for promising programs.
Our Approach
This team aims to develop an interdisciplinary work group on vocational education that will produce cutting edge research, develop and use critical administrative data sources, and train emerging scholars in the quantitative and qualitative analysis methods needed to understand the possibilities and challenges of developing the next generation of worker training programs in this country. They combine an interdisciplinary set of researchers and methods with access to a unique data source on California's Community College system, including its extensive vocational education programs.
The goal for this project is to produce a number of individual research projects, but to focus on combining efforts of quantitative and qualitative work to build a more complete picture of what such programs can and are doing. The variety of methods and relatively tight substantive focus of the cluster also make it a natural setting in which to engage students for focused training and mentoring. Progress will be evaluated with a set of goals and milestones that include individual publications and projects, engagement of scholars and students, and production of specific policy-oriented dissemination materials to engage scholars and policy-makers well beyond UC Davis.
Impacts & Highlights
During year three, research under this project was expanded to include 11 main career and technical education (CTE) disciplines, covering nearly 98 percent of all CTE students. Three new directions were undertaken to evaluate how student characteristics affect completion differently per program, how malleable features of CTE program offerings are related to student success and completion, and how the mix of CTE projects fits into the changing industry and occupational structure of California and the US.
The different enrollment patterns for men and women and the differences in racial make-up of students across particular occupational programs were analyzed. Given extensive  information regarding family background and K-12 academic achievement, the team is beginning to understand whether reallocating students across programs could be an effective way to reduce disparities in earnings outcomes.
The second, related direction for this work attempts to identify the key course pathways successful students follow across extremely diverse CTE programs. This data-mining approach is then followed with detailed research by graduate and undergraduate students to confirm that these course pathways correspond with stated program offerings and requirements.
The team continues to attempt to place these CTE offerings in the context of the national evolution of workforce needs. They have coded the task content of specific occupations in order to map the types of occupational skills provided by CTE coursework.
Team
| | |
| --- | --- |
| Ann Huff Stevens | Professor of Economics, and Interim Dean of the Graduate School of Management |
| Michal Kurlaender | Associate Professor of Education |
| Victoria Smith | Professor of Sociology |
| Michel Grosz | Graduate Student of Economics |
| Elizabeth Hart | Graduate Student of Sociology |
| Alex Russell | Senior Writer for the Center for Poverty Research |
| Jessica Harold | Program Assistant for the Center for Poverty Research |
For more information on this program, please contact Christine Parks at ceparks@ucdavis.edu.