March 9, 2023
By Neelanjana Gautam
Researchers from the University of California, Davis, are paving a path to commercialize a new technology that they hope will make dietary fiber easier to add into food and more acceptable to the consumer.
The consumption of dietary fiber is linked to many health benefits including a reduction in cancer, chronic inflammatory disease, metabolic disease, cardio-vascular disease and even depression.
But fiber is not easy to add into food, because it causes taste and texture issues, ultimately discouraging people from consuming it.
In order to address this challenge in the current food system, four scientists from UC Davis, Matt Amicucci, Bruce German, Carlito B. Lebrilla and Dave Mills, have come up with a novel depolymerization technology that can "chop" fiber up from long polysaccharides into small, bioactive chains of carbohydrates, called oligosaccharides. The process does not change the structure of the fiber, but makes it soluble, digestible and palatable, which could potentially make people consume more of this fiber through a variety of food and drinks.
UC Davis' Role in Technology Commercialization
The team's work provided the foundational technology platform for a startup, BCD Bioscience, which recently renovated about 9,000 square feet of lab space in Sacramento. During the early stages, the startup was housed in the UC Davis-HM Clause Life Science Innovation Center and AgSTART, which facilitate entrepreneurs to take new ideas to the market. The company also participated in the 2023 Biotech Innovation Gallery.
"The university has played a pivotal role in our journey including supporting us to file the original patents," said Matt Amicucci, former Ph.D. student with the university, and now vice president of research and development at BCD Bioscience. "We were also able to join the shared development space between UC Davis and HM-Clause where we spent about the first year of the company, developing our work and gaining experience to eventually evolve into an independent entity."
Developing Technology to Provide Precision Health Benefits
BCD Bioscience is working on the field of "next generation oligosaccharides" by characterizing the fiber structures from over 2,500 different natural products, including plants, food, algae and bacteria. In the next two years, the company says it plans to bring a whole line of oligosaccharides to the market that could target a range of specific health disorders, including high blood pressure, gut health, diabetes and cardiovascular disease. "The diversity of fiber structures will cater to different groups of people and they're really going to need it," said Dave Mills, a distinguished professor and Peter J. Shields Chair in Dairy Food Science. "The fact that we can now add fiber into more foods, even soft drinks and water, which we couldn't do before, is going to potentially change the fiber input that the average human consumes."
Discovering the Next Generation of Oligosaccharides
The perplexing fact that human mothers could synthesize fiber in their breast milk paved the way for this line of research. When the group analyzed the phenomenon, they found that the fiber was short oligosaccharides that were feeding very specific bacteria to out-compete other bad bacteria.
The findings revealed several insights, said Bruce German, a distinguished professor and chemist in the Department of Food Science and Technology. One way to control a microbial community and preferentially support only beneficial bacteria is to have oligosaccharides with very specific structures so only certain bacteria could use them as substrates. This implies that the very long polysaccharides are no longer needed to get the benefit of controlling a microbial community.
"For adults, however, you would want to be able to feed somewhat different bacteria, but with the same functions. You want fiber that is similar to the plant foods people eat, because that's the basis for beneficial bacteria in adults," said German. "But plants produce polysaccharides, and they're not very good at growing bacteria."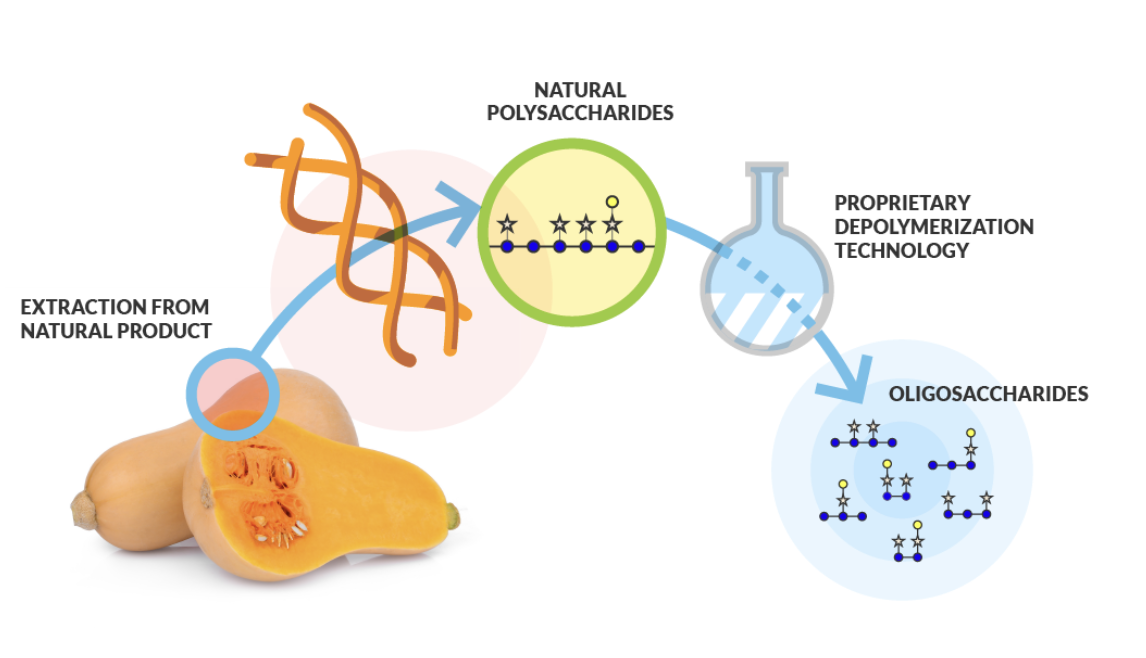 Technology to Depolymerize Polysaccharides
There was no known universal method to break down the polysaccharides into oligosaccharides before Carlito B. Lebrilla, a distinguished professor in the Department of Chemistry, and Amicucci came up with a novel non-enzymatic method. Their method uses small amounts of hydrogen peroxide and catalytic amounts of metal like iron or copper to depolymerize the polysaccharides. "We put together several food processing steps and created this way of breaking down the polysaccharides to bioactive oligosaccharides," said Lebrilla. "The big advantage is that we're making a bioactive compound, which is food grade, safe and natural."
The findings were published in Nature Communications. The method was developed as an analytical tool but was found to be scalable and economical enough to produce large amounts of these oligosaccharides. "It was really phenomenal to find out that the same method used analytically was also viable commercially; that was the start of BCD," said Amicucci. "Now, one will be able to get their full daily dose of fiber in a single glass of liquid, which was impossible before the technology was developed at UC Davis." 
Media Contact
AJ Cheline, UC Davis Office of Research, acheline@ucdavis.edu
Share This Story
Tags
---
More Stories