As the COVID-19 outbreak expands and the impact evolves, the Office of Research is working closely with the UC Davis leadership team, the University of California Office of the President and colleagues from other UC campuses to establish guidance specific to research operations. This guidance is intended to help the campus research community limit the impact and potential risk associated with the growing outbreak of COVID-19.
With the ongoing concern about the spread of this disease, laboratories, and research facilities should begin to plan for the possibility of a significant disruption to routine operations. Each laboratory or research facility is best positioned to create a continuity plan that will meet their unique needs. This guidance is provided to facilitate the development of your plan.
Our office will continue to provide updated information as it becomes available, however, we encourage you to visit UC Davis' Coronavirus website for the latest news and information.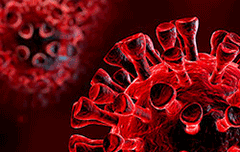 Latest Message to Campus: Ramp Down On-Campus Research Activities
On March 17, 2020, the Office of Research, in collaboration with campus leadership, instructed researchers to ramp down all noncritical on-campus research activities.
Read Message
The following provides information related to:
Immediate Actions to Avoid/Reduce Transmission
Require that all personnel who are feeling unwell stay home until they no longer have symptoms
Remind all personnel to practice recommended personal hygiene measures including washing hands frequently, using hand sanitizer, avoiding touching their face and covering coughs.
Explore and implement measures to allow "social distancing" of lab/research personnel. For example, increasing spacing between researchers where possible to more than 6 feet, having personnel come to the lab in shifts, allowing every other bench to be unoccupied, etc.
Review opportunities for lab personnel and support staff to work remotely.
Increase disinfecting of laboratory and communal spaces. Facilities Services will be increasing service to student housing, administrative and teaching space daily, in accordance with CDC guidelines, including door handles, light switches, banisters, etc.
Regarding travel, you can find the latest guidance here.
Cancel visits from individuals from CDC Level 3 countries (through at least the month of March), if less than 14 days; ensure all longer-term visiting scholars from these countries know they will have to self-isolate for 14 days upon arrival.
Recommended Planning and Preparations for PIs
Individual labs and research facilities are best positioned to create a continuity plan that will meet their unique needs. Principal Investigators and Research Managers should begin scenario planning now for the potential that research and campus operations need to continue with reduced or remote staffing if significant numbers of research or research support personnel become ill or large-scale self-isolation is required. The following are recommendations to consider in developing your plan.
The following assumptions are based on a scenario with widespread COVID-19 transmission:
A significant percentage of your laboratory workforce may be out sick or unable to come to work.
Essential research infrastructure, such as power and telecommunications, will be maintained.
The Teaching and Research Animal Care Services will maintain their essential research support functions, although some lower-priority services may need to be curtailed (e.g., less frequent waste pick-up).
Orders for critical supplies may be delayed. Information from the Procurement & Contracting Services can be found here.
Processing of visas by the federal government may be delayed, resulting in delayed appointments.
Core facilities and other fee-for-service resources may not be available
Planning
Ensure that those involved in research projects have access to information they need to carry out work remotely (e.g., access to literature, existing datasets and research-related files, and meeting software, such as Zoom).
Test and update remote work technologies such as VPN and Zoom conferencing.
The UC Office of the President has stated that under no circumstances are researchers to take materials other than laptops, data storage devices, etc., offsite (e.g., to their homes).
Identify procedures and processes that require regular personnel attention (e.g., cell culture maintenance, animal studies).
Assess and prioritize critical laboratory activities.
Identify any research experiments that can be ramped down, curtailed or delayed.
Identify personnel able to safely perform essential activities.
Ensure that you have access to emergency contact information for your critical staff, including cell phone numbers.
Cross-train research staff to fill in for others who may be out sick or unable to come to work.

Ensure staff have the appropriate training.
Ensure you are documenting critical step-by-step instructions in your Standard Operating Procedures.

Coordinate with colleagues who have similar research activities to identify ways to ensure coverage of critical activities.
Review contingency plans and emergency procedures with researchers and staff.
Maintain a sufficient inventory of critical supplies that may be impacted by global shipping delays.
Investigators who intend to ship research materials overseas should ensure that service is available and that packing materials (ice packs, etc.) are sufficient in case the package is delayed.
Communicate significant planned absences and/or lab closures to key administrative units.
Prioritize. Depending upon the nature of your research, consider prioritizing work that can only be carried out in your research facility, and put off work amenable to remote support, such as data analysis. Stockpiling results and data now that could be analyzed remotely in the future is a potential option that might create future flexibility.
Guidelines for Research Biospecimens During the COVID-19 Pandemic (added 3/24/20)
View a sample laboratory ramp-down checklist
Information for researchers who need to cryopreserve their cell lines during COVID-19. (added 3/23/20)
Other safety considerations:
Ensure that individuals performing critical tasks have been adequately trained and understand whom to contact with technical or safety questions.
Avoid performing high-risk procedures alone. When working alone is necessary, exercise extreme caution.
Ensure that research team members notify colleagues of their schedule when working alone for an extended period of time.
Ensure that high-risk materials (radioactive, biohazards, chemicals) are properly secured.
Animal Care for Teaching and Research
Each of our 46 vivaria at UC  Davis have facility specific continuity plans which will be activated as necessary. These procedures, along with capacities in our infrastructure, have been established as part of previous risk mitigation planning sessions in case of emergency situations.
Currently,  we are working with the understanding that the scientific integrity of ongoing studies can be maintained and that we will be able to provide the same level of husbandry care for all animals within our vivaria. We are not expecting, and have not been notified to expect, any potential disruption to our utilities or the ability of our infrastructure to safely care for and house our animals.
However, we have plans in place for emergencies including continued animal care with minimal staff. We have guidance from our regulatory groups on allowable flexibility of our standard operating procedures.
At this point, we know that non-human primates are susceptible to experimental infection with COVID-19. In response, the CNPRC has modified their facility access procedures.  Additionally, we have stopped all non-employee traffic flow into all of our other primate areas.
To our knowledge, there has been one confirmed report of a dog that tested positive in Hong Kong. While information is changing continuously, at this point we are not aware of transmission to our other research species.
Our primary concerns at this point are continuity of the daily care of our animals as well as continued availability of personal protective equipment, most specifically masks, that are used both for personnel and animal protection.
We can utilize cross-trained staff if needed to provide support in impacted areas should the situation arise. In some areas we have already instituted mask re-use programs. We will be expanding this program to additional facilities.
As of 3.18.20, the following will be implemented as a result of the campus moving to suspended operations:
Moving forward, requests for animal orders and intra-campus transfers will be limited to ongoing research demands and will be evaluated on a case by case basis. Imports and exports are postponed until further notice.
On-site breeding of research animals should be decreased significantly and we urge investigators to protect their critical lines by cryopreservation or other means.
Research related activities need to be limited to those absolutely essential for ongoing studies or the heath of the animal. No new studies, with the exception of those that are specific to COVID-19, should be initiated.
Daily husbandry practices are expected to continue per standard operating procedures although weekly and monthly duties may be delayed.
If you have any specific questions regarding your vivaria, we encourage you to reach out directly to your Scientist-in-Charge, your Technician-in-Charge, or to Laurie Brignolo (llbrignolo@ucdavis.edu) or Donna Routley (dmroutley@ucdavis.edu) at the Animal Care Program.
Research Related Operations in the Event of a "Campus Closure"
If a campus closure is issued, the following contingency plan will be implemented to support research across the university. The safety and health of our research workforce and animals will remain our highest priority.
Animal Care Program, including TRACS, will continue to operate per normal schedule.  Contingency plans are in place to ensure ongoing animal care and welfare in case of short staffing.   The Teaching and Research Animal Care Services will maintain their essential research support functions, although some lower-priority services may need to be curtailed (e.g., less frequent waste pick-up).
Human Research Protection Program (HRPP/IRB) will operate per normal schedule. Some staff may work remotely (with full access to IRB assets), but will be available via phone, email and videoconferencing as needed. A process for priority review of COVID-19 related protocols has been established. Submissions can be uploaded into IRBNet with "Covid" in the study title. In the event of emergency, please contact the IRB administration directly at 916.703.9146.
IACUC will operate per normal schedule with the option of holding committee meetings virtually if the need arises.
Innovation and Technology Commercialization including InnovationAccess and Venture Catalyst will operate per normal schedule. Some staff may work remotely, but will be available via phone, email and videoconferencing as needed.
Research Compliance and Integrity will operate per normal schedule. Some staff may work remotely, but will be available via phone, email and videoconferencing as needed. Response times may be delayed in rare cases where access to onsite records or paper documents are required.
Sponsored Programs Office (SPO) will operate per normal schedule. Some staff may work remotely, but will be available via phone, email and videoconferencing as needed. Time sensitive opportunities for funding related to COVID-19 research such as the NSF RAPID program or NIH's NOSI programs will receive heightened priority.
Guidance From Federal Sponsors and Agencies
The UC Research Policy Analysis and Coordination office is proving daily updates on news from federal agencies and related higher education responses to COVID-19. UCOP has also released a memo on 3/24/20 titled Charging grants and contracts costs to Federal sponsored awards during COVID-19 that explains recent guidance from OMB, NIH and NSF.
3/25/20: Summary of Institutional and Agency Responses to COVID-19 and Additional Resources provided by the Council On Government Relations.
FDA
Policy for Diagnostic Tests for Coronavirus Disease-2019 during the Public Health Emergency
Office of Management and Budget
OMB has issued a memo providing "Administrative Relief for Recipients and Applicants of Federal Financial Assistance Directly Impacted by the Novel Coronavirus (COVID-19).
National Institutes of Health
Coronavirus Disease 2019 (COVID-19)
Notice of Special Interest (NOSI) Regarding the Availability of Urgent Competitive Revisions for Research on the 2019 Novel Coronavirus (2019-nCoV) (NOT-AI-20-030)
The National Institute of Allergy and Infectious Diseases and the National Institute of General Medical Sciences are issuing this NOSI to highlight the urgent need for research on the 2019 novel Coronavirus (2019-nCoV). NIAID is particularly interested in projects focusing on viral natural history, pathogenicity, transmission, as well as projects developing medical countermeasures and suitable animal models for pre-clinical testing of vaccines and therapeutics against 2019-nCoV. NIGMS is specifically interested in incorporation of data from the 2019-nCoV into ongoing research efforts to develop predictive models for the spread of Coronaviruses and related pathogens.
NIH Late Application Policy Due to Public Health Emergency for United States for 2019 Novel Coronavirus (COVID-19)
NIAID: Coronaviruses: Information for Researchers
NIAID's Multi-Pronged Response to the COVID-2019 Outbreak
Fogarty International Center: Coronavirus news and resources for global health researchers
NIH Extramural Response to Natural Disasters and Other Emergencies
Memorandum on Interim Guidance for Clinical Trial Activities Affected by the Novel Coronavirus
National Science Foundation
3/23/20: The National Science Foundation has issued Important Notice No 146 to the Community Regarding COVID-19. NSF has also issued additional guidance on NSF's implementation of the Office of Management and Budget (OMB) Memorandum (M-20-17), entitled, Administrative Relief for Recipients and Applicants of Federal Financial Assistance Directly Impacted by the Novel Coronavirus (COVID-19) due to Loss of Operations. NSF has implemented flexibilities authorized by OMB from specific administrative, financial management and audit requirements contained in 2 CFR Part 200, Uniform Administrative Requirements, Cost Principles and Audit Requirements for Federal Awards without compromising accountability requirements. Any questions about the policies described in the NSF Guidance should be directed to policy@nsf.gov. Questions specific to a particular award should be directed to the cognizant NSF Program Officer. NSF is working to update existing FAQs and other resources to reflect NSF's new guidance and will keep you informed on our website at: nsf.gov/coronavirus.
3/12/2020: NSF has developed a new website for the research community with detailed guidance on the Coronavirus (COVID-19). This includes guidance for awardee organizations, researchers and reviewers of NSF proposals. Please note that this website will be updated as new developments arise.
Frequently Asked Questions (FAQs) About the Coronavirus Disease 2019 (COVID-19) for National Science Foundation (NSF) Proposers and Awardees
Dear Colleague Letter on the Coronavirus Disease 2019 (COVID-19):
NSF is accepting proposals to conduct non-medical, non-clinical-care research that can be used immediately to explore how to model and understand the spread of COVID-19, to inform and educate about the science of virus transmission and prevention, and to encourage the development of processes and actions to address this global challenge.
Dear Colleague Letter: Provisioning Advanced Cyberinfrastructure to Further Research on the Coronavirus Disease 2019 (COVID-19)
The Office of Advanced Cyberinfrastructure is inviting RAPID proposals and supplemental funding requests to existing awards that address COVID-19 challenges through data and/or software infrastructure development activities.\
Department of Defense
Frequently Asked Questions for DOD Research Proposers and Awardees Impacted by the Novel Coronavirus (COVID-19) 3/24/20
Funding Opportunities Related to COVID-19
NIH: https://www.niaid.nih.gov/grants-contracts/response-covid-2019-outbreak
NSF: https://www.nsf.gov/pubs/2020/nsf20052/nsf20052.jsp
NSF encourages the research community to respond to the COVID-19 challenge through existing funding opportunities. In addition, we invite researchers to use the Rapid Response Research (RAPID) funding mechanism, which allows NSF to receive and review proposals having a severe urgency with regard to availability of or access to data, facilities or specialized equipment as well as quick-response research on natural or anthropogenic disasters and similar unanticipated events. Requests for RAPID proposals may be for up to $200K and up to one year in duration. Well-justified proposals that exceed these limits may be entertained.
Health and Human Services (HHS) Office of Biomedical Advanced Research and Development Authority (BARDA): https://beta.sam.gov/opp/1b46a4169fcb4902b9c4fcbb5bf981f7/view
HHS BARDA has revised its Broad Agency Announcement (BAA) to only accept proposals and white papers in areas relevant to the study of COVID-19. Areas of interest include:

AOI 7.7.1 Diagnostic assay for human coronavirus using existing FDA-cleared platforms
AOI 7.7.2 Point-of-care diagnostic assay for detection of SARS-CoV-2 virus
AOI 7.7.3 Diagnostic assay for detection of COVID-19 disease (SARS-CoV-2 infection)
AOI 8.3 COVID-19 Vaccine
AOI 9.2 COVID-19 Therapeutics
AOI 9.3 Immunomodulators or therapeutics targeting lung repair
AOI 9.5 Pre-exposure and post-exposure prophylaxis
AOI 10 Respiratory protective devices
AOI 11 Ventilators
AOI 17 Advanced Manufacturing Technologies
Gates Foundation: https://www.gatesfoundation.org/Media-Center/Press-Releases/2020/03/COVID-19-Therapeutics-Accelerator
The Bill & Melinda Gates Foundation, Wellcome, and Mastercard committed up to $125 million in seed funding to speed-up the response to the COVID-19 epidemic by identifying, assessing, developing, and scaling-up treatments. The COVID-19 Therapeutics Accelerator will play a catalytic role by accelerating and evaluating new and repurposed drugs and biologics to treat patients with COVID-19 in the immediate term, and other viral pathogens in the longer-term. By providing fast and flexible funding at key stages of the development process, the Accelerator will de-risk the pathway for new drugs and biologics for COVID-19 and future epidemic threats, ensuring access in lower-resource countries.
Other agencies around the world: https://sciencebusiness.net/news/covid-19-funding-bodies-around-world-pledge-new-money-virus-research
Office of Research Research Working Group on COVID-19: https://covid19research.ucdavis.edu
The Office of Research has organized a research working group on COVID-19 in effort to bring together researchers from all disciplines interested in working toward solutions to this ever-present health crisis.  Through the group's website, you can easily connect with other researchers and efforts, find a listing of campus resources, discover funding opportunities and stay abreast of the latest news regarding UC Davis' contributions to COVID-19 research.