May 11, 2017: Summer Short Course in Flow Cytometry
University of California Davis
Summer Short Course in Flow Cytometry
Davis, California
Sponsored by the UC Davis Biotechnology Program and the UC Davis Flow Cytometry Shared Resource
July 17-21, 2017
 This comprehensive flow cytometry course is enhanced with interactive laboratory sessions using many of our UC Davis cytometers as well as new instrumentation and software to teach you to a variety of established and new approaches in cytometry. Special guest speakers will introduce new trends in flow cytometry and explain the physical and electronic concepts in light collection and signal processing. Thanks to many generous sponsors, lunches and coffee breaks are provided to promote opportunities for interaction with the instructors and cytometry specialists. Please make plans to join us this summer for another fun week of flow education. For registration details and fees, please go to the Biotechnology Program's summer courses page at: http://www.biotech.ucdavis.edu/SummerCourses.html
Course objectives:
Learn the fundamental concepts of how flow cytometers work
Discuss best practices in sample preparation for flow cytometry
Describe standard assays and techniques
Introduce new cutting edge technologies and applications for single cell analysis and genomics
Demystify multicolor cell staining, compensation and analysis
Laboratory sessions include:
UC Davis LSRII: Software setup for successful multicolor acquisition and analysis
UC Davis Astrios Cell Sorter: Cell sorting fundamentals using the Beckman Coulter Astrios
Cytometer setup and quality control for consistent performance with the Cytek DxP8 cytometer
Multispectral imaging flow cytometry using the Amnis FlowSight Imaging Cytometer
Multiparameter Analysis of Cell Surface Markers, Cytokines, Transcription Factors by Flow Cytometry: BD Biosciences on the LSRII cytometer
FlowJo basic and advanced flow cytometry data analysis and panel design wizard
Targeted gene expression in single cells using flow sorting and the Fluidigm BioMark
Special guest speakers:
Holden Maecker, Ph.D., Director, Stanford University Human Immune Monitoring Core
Jolene Bradford, Associate Director Flow Cytometry Systems, Molecular Probes, a Division of Invitrogen with ThermoFisher Scientific
Marty Bigos, Director, Stanford Shared Flow Cytometry Laboratory
And more!
---
May 9, 2017: High Resolution Mass Spectrometry Lunch and Learn

Bruker is proud to announce the 25 year anniversary of MALDI-TOF mass spectrometry worldwide. Please join us in this exciting celebration and learn how the latest advances in Bruker's High Resolution Mass
Spectrometry have allowed researchers to gain deeper insights into their studies. This informative lunch and learn seminar will discuss the analytical capabilities afforded by Bruker's MALDI-TOF (TOF) and the LC-QTOF mass spectrometers.
25 Years of MALDI-TOF Mass Spectrometry, Nannan Tao, Ph.D., Senior Application Scientist,
Bruker Daltonics
This workshop will share with you the history and developmental highlights of Bruker MALDI-TOF mass spectrometers, and introduce the latest technological advancements that allow researchers to gain unparalleled insight into a new era of mass spectrometric analysis in protein sequence, automatic De Novo identifications, sulfide bond detections in biomolecules, microbiology identifications, oligonucleotides QC, and polymer
analysis. Additionally, we will cover MALDI-TOF enabled, highly-automated workflows allowing staff to
acquire and analyze information from the smallest amounts of samples within just seconds.
High Performance Proteomics and Metabolomics with the impact II Q-TOF Powers Increases in Bio-production Efficiency Using Rational Strain Design, Xuejun Peng, Ph.D., Western Region
Demonstration Laboratory Manager, Bruker Daltonics
This workshop will describe a single platform QTOF LC/MS solution that can help you efficiently achieve both proteomics and metabolomics studies. Bruker QTOF was applied to study the Arginine production in bacterium C. glutamicum. Both metabolomics and label-free proteomics data gain insights into changes introduced by the rational strain design to increase arginine production. Known compounds and changes of proteins in arginine biosynthetic pathway could automatically be identified. Mapping alterations detected by OMICS approaches on biochemical pathway maps enabled quick formulation of hypotheses. The results demonstrate the combination of non-targeted omics techniques enables in-depth investigation of changes in C. glutamicum caused by rational strain design. Additionally, non-targeted metabolomics data resulted in identification of several unknown compounds.
Thursday, May 11th
11:30 AM – 1:00 PM Pacific Standard Time
Conference Room 172, Chemistry
UC Davis sponsor: William Jewell, wtjewell@ucdavis.edu
Please click to register:
http://bruker-marketing.actonsoftware.com/acton/fs/blocks/showLandingPage/a/4047/p/p-0070/t/page/fm/0
For additional information, please contact Jennifer Huang, Technical Sales Rep for Bruker Daltonics,
Kuo-Chen.Huang@bruker.com or 650-922-7891; and Na Parra, Western Regional Manager for Bruker Daltonics, Na.Parra@bruker.com or 510-203-6069
---
May 9, 2017: Spring Imaging Celebration 2017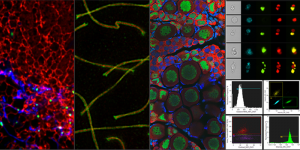 IMAGING LIVE, LONG & WITH HIGH RESOLUTION
Monday May 15th   9:00am – 1:00pm
GBSF First Floor Auditorium Room 1005, Davis, CA.
Join us for a half-day sympoisum to hear about the exciting new research being conducted on campus made possible with advanced light microscopy techniques.
Section 1 will feature talks using live cell imaging using spinning disk confocal, TIRF, and photo-kinetic approaches.
Section 2 features Light Sheet Microscopy and the longer observations, lower phototoxicity, and large size scale imaging made possible using these methods.
Section 3 will feature microscope vendor talks about new instruments which might be a good solution to your research problem.
This event is open to the entire UC-Davis scientific community to stimulate the exchange of ideas and new collaborations.
Come celebrate the exciting imaging research happening now on campus and what is coming in the near future!
Register with Eventbrite: 
https://www.eventbrite.com/e/spring-imaging-celebration-2017-imaging-live-long-with-high-resolution-tickets-33906476183?ref=enivte001&invite=MTE4OTU5ODUvamF1Z2VyQHVjZGF2aXMuZWR1LzA%3D&utm_source=eb_email&utm_medium=email&utm_campaign=invitemodernv2&ref=enivte001&utm_term=attend
*** Special Associated Event: Lattice Light Sheet Workshop with microscope time for your sample on Tuesday, May 16th. Advanced registration is required. Please contact Michael Paddy (mrpaddy@ucdavis.edu) for more information. ***
---
May 4, 2017: Flow-Jo-based Flow Cytometry Data Analysis Seminars
The UC Davis Flow Cytometry Shared Resource is hosting two FlowJo-based flow cytometry data analysis seminars on Thursday, May 18, 2017.
Join us and learn how to use FlowJo more efficientl y to analyze your data files, streamline fluorescence compensation, work with the Layout and Table editors and discover many more advanced features useful for working with large, multiparameter data sets.
The seminars will be led by Dr. Jack Panopoulos, our FlowJo Technical Application Scientist and are located in Davis in the morning (GBSF 1005, 10 a.m. to noon) and Sacramento (Medical Education Building, room 3207, 2 p.m. – 4 p.m.) in the afternoon.
Come and learn some new analysis tips and tricks, bring your questions (laptops and layouts are helpful) and enjoy some light snacks & refreshments. Please see the attached announcement flyers for details and email me (bmclaughlin@ucdavis.edu) if you have any questions.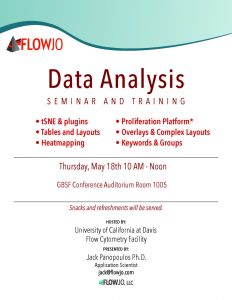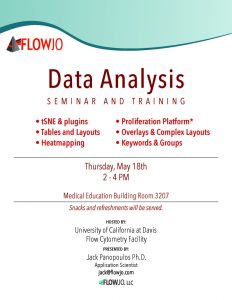 ---
May 2, 2017: Bioinformatics Core Training Program
June 19-23, 2017
Now in its 10th year, the UC Davis Bioinformatics Core Training Program will present a week-long RNA-Seq Workshop here in Davis in June!
This workshop will include a rich collection of lectures and hands-on sessions, covering both theory and tools associated with command-line RNA-seq data analysis. Participants will explore experimental design, cost estimation, data generation, and analysis of RNA-Seq data generated on the Illumina sequencing platform. You will use your own laptop to learn about software and protocols, create and modify workflows, and diagnose/treat problematic data utilizing high performance computing. Exercises will be performed with provided datasets, using command-line interaction.
Who should attend? … Prior course participants have included faculty, post docs, grad students, staff, and industry researchers.
What are the prerequisites? … There are no prerequisites other than familiarity with general biological concepts and an enthusiasm for learning bioinformatics data analysis. Anyone with an interest in RNA sequence analysis is welcome!
How do I register? … For more information, and to register, go to https://registration.genomecenter.ucdavis.edu/. All registration is "first-come, first-served". There is no application process.
How much does it cost? … The registration fee is $1,400 for UC and UC affiliates, $1,600 for other academic or non-profit participants and $2,000 for other participants.  Registration fees include light breakfast, lunch, and snacks.
Where can I find more information, including your policies?  … Go to our website (bioinformatics.ucdavis.edu/training/) and check out our FAQ and Policies.
Questions?
If you have any questions, please don't hesitate to contact us at training.bioinformatics@ucdavis.edu
The UC Davis Bioinformatics Core Team
http://bioinformatics.ucdavis.edu/
---
April 27, 2017: Research Expo 2017
The OR Research Expo was held April 18, 2017 at the Activities & Recreation Center. This event brought together the wide range of resources available across the campus to advance research and build strong collaborative networks across the UC Davis campus and beyond. Faculty, post docs, staff and students interested in attaining guidance in learning ways to secure new funding opportunities, enhance the impact of their research, or explore how to translate discoveries into products attended the event. In addition it provided a unique opportunity for researchers and industry partners to explore the services, facilities and programs available at UC Davis.  We had a great time and hope you will join us when we do it again next year!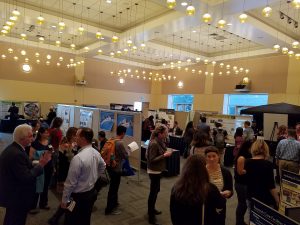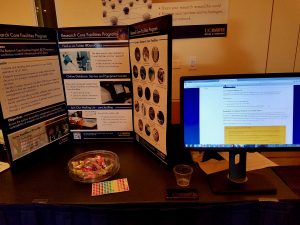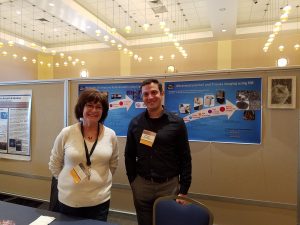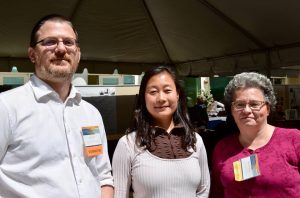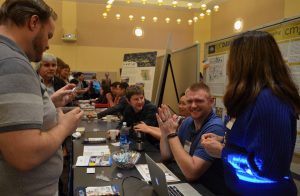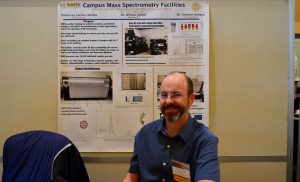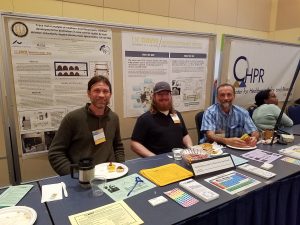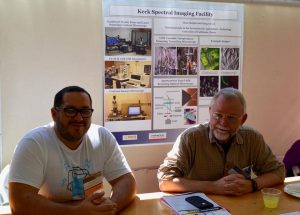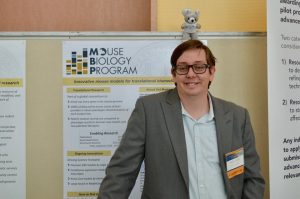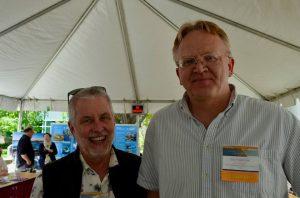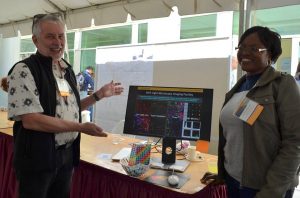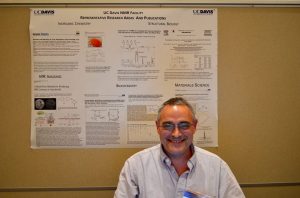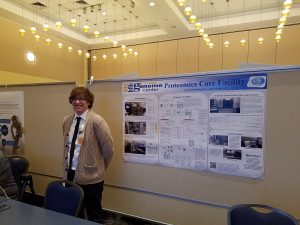 ---
April 18, 2017: Lattice Light Sheet Microscope Live

The addition of a ground-breaking microscope to the College of Biological Sciences' arsenal of research tools will transform the way UC Davis life scientists conduct research, researchers say. The lattice light-sheet microscope — one of approximately 25 of its type in the world — has the potential to revolutionize what is known about the living cell.
"Think about Galileo and his telescope," said Michael Paddy, scientific coordinator for the Light Microscopy Imaging Facility in the Department of Molecular and Cellular Biology. "His invention changed astronomy and our understanding of our place in the world."
The lattice light-sheet microscope has that same potential, said inventor and 2014 Nobel Prize Laureate Eric Betzig during a College of Biological Sciences Storer Lectureship in the Life Sciences presentation on campus in February. Betzig believes that with this microscope, the same level of advancements made with Galileo's telescope will happen in cellular biology.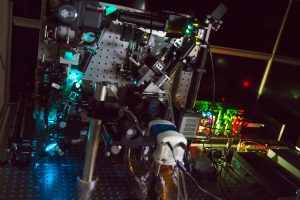 Powerful Views
The lattice-light sheet microscope boasts many advanced capabilities over other research microscopes:
Integrating technologies: A refined version of a light-sheet fluorescence microscope, the lattice light-sheet microscope combines techniques from Bessel beam and structured illumination microscopies.
Increasing observing durations: The lattice light-sheet microscope allows users to view live specimens 100 to 1000 times longer than traditional spinning disc confocal techniques.
Limiting cell damage: Most research light microscopes blast large amounts of light particles at samples that quickly damage cells in a process known as photobleaching. The lattice light-sheet microscope, on the other hand, applies an extremely thin sheet of observational light on a live cell sample, significantly decreasing cell damage.

The process can be compared to a movie scene. Imagine only the actors speaking are illuminated, while objects in the background and foreground remain unlit. If those foreground or background objects become necessary, the director will illuminate them separately and later combine them with the images of the actors, effectively limiting the amount of light cast on the scene.

Superior data collection: Capturing images at 50 frames per second, a sensitive camera creates detailed, continuous movies over much longer time periods, with fewer gaps in the process. This movie-like data collection process provides unprecedented three-dimensional views of changing biological processes.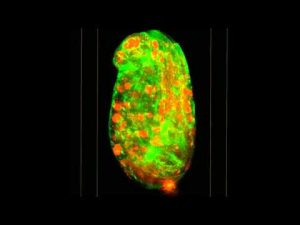 Advancing Scientific Knowledge
"It is a transformative technology," said Department of Molecular and Cellular Biology Chair Jodi Nunnari. "Outstanding biological questions that were previously intractable are now addressable. In short, it will enable discovery."
Students will have significantly expanded opportunities in discovery, research application and technology access, Nunnari said, adding that the Howard Hughes Medical Institute and eight UC Davis groups collaborated to fund the $600,000 microscope, which was developed in collaboration with Intelligent Imaging Innovations of Denver, Colorado.
Together, these eight research groups raised funds for the microscope. With many departments gaining access to this new tool, UC Davis will continue its collaborative approach to advance scientific discovery.
What these discoveries might look like, however, will remain unpredictable and even unimaginable until they happen, Paddy said.
"It's a trip into the biological unknown," he said.  "It's a little like the (Star Trek) Starship Enterprise heading out on a five-year mission. You don't really know what's out there until you take a look. Whether the insights will be as profound as Galileo's, only time will tell. But it will be exciting to be on this grand adventure of taking a much closer look."
---
April 11, 2017: Research Expo 2017

We would like to invite you to the 2017 Research Expo, hosted by the Office of Research. This event brings together the wide range of resources available across the campus to help you advance your research and build strong collaborative networks.
Whether you want to secure new funding opportunities, enhance the impact of your research, or explore how to translate discoveries into products, you will find guidance on each plus much more.
Who should attend: Faculty, post docs, staff and students involved in research
 Schedule of Events:
11:00-12:30 Presentations
Welcome by Cameron Carter
Interim Vice Chancellor for Research
 Trends and Opportunities in Scholarly Publishing
A panel discussion including publishing representatives, journal editors and UC Davis faculty
12:30-2:00 Exhibits Open (lunch provided)
2:00-3:00 Workshops (space limited, so sign up now)
Best Practices for Scholarly Publishing
Updates and Trends in Federal Regulation of Research
Science Communication & Informal Education: Partnering with the Exploratorium for Strategic Impact
When: Tuesday, April 18, 2017
Where: Activities & Recreation Center (ARC), UC Davis
 For more information and to register for the event, please visit https://orexpo2017.eventbrite.com.
Contact ceparks@ucdavis.edu with any questions.
---
April 6, 2017: Ensembl Genome Browser Workshop
The Bioinformatics Core and the Shields Library are hosting an Ensembl Genome Browser Workshop on May 18 & 19!
For more information and to register, go to https://registration.genomecenter.ucdavis.edu/.
Ensembl provides a comprehensive and integrated source of annotation of both vertebrate and non-vertebrate genomes. This workshop will include presentations and demonstration, and provide participants an opportunity to gain hands-on experience in the use of Ensembl genome browsers. Topics will include:
Introduction to Ensembl: origin, goals and organisation of the Ensembl project
Genebuild: how are Ensembl gene and transcripts predictions made?
Data mining with BioMart: retrieving genomic information using a web interface (no programming required).
Variation: SNPs and other polymorphisms, haplotypes, structural variants like CNVs and the Ensembl VEP (variant effect predictor)
This workshop will be held in a computer classroom at Shields Library and will run from 12:30 to 4:30pm on May 18th, and 9:00am to 12:00 on May 19th. You may either use one of the MS Windows desktops or you may bring your own laptop to use.
There is a registration fee of $30, which includes all workshop materials. Coffee and snacks will also be provided.
For more information and to register, go to https://registration.genomecenter.ucdavis.edu/.
The UC Davis Bioinformatics Core Team
http://bioinformatics.ucdavis.edu/
---
March 14, 2017: Guest Lecture Seminar
The Mouse Metabolic Phenotyping Center with the NIH West Coast Metabolomics Center proudly present
The Guest Lecture Seminar with Irwin J. Kurland, M.D., PhD.
Professor, Department of Medicine, Director of the Stable Isotope & Metabolomics Core Facility of the Diabetes Research Center
March 22, 2017 ~ Genome Center Auditorium ~ 10 – 11:30 a.m.
---
March 2, 2017: CMGI to Provide New Quantitative Image Analysis Services
The Center for Molecular and Genomic Imaging (CMGI) is pleased to announce an expansion of its imaging portfolio by adding Quantitative Image Analysis (QIA) services. QIA refers to the standardized extraction of meaningful, quantitative information from imaging data. It uses computational algorithms, instead of manual tasks performed by human users because the underlying tasks may be too complex or time consuming for humans, or the human visual system may not provide optimal detection capability for the task at hand.
"A question scientists are faced with is: are we getting the most amount of information we could from imaging data we collect? Most would agree that the answer is no. QIA allows us to precisely address this problem," says Abhijit Chaudhari, CMGI Director.
For example, a study monitoring neurodegenerative changes requires extraction of the cortex of a rat brain from a 3D MRI scan. A person would typically manually outline the cortex from about 50 slices from the MRI scan. Even for an expert, this task can take 3-4 hours. Studies that require multiple scans of many animals over time become exorbitantly laborious, expensive, and potentially error-prone. Using a QIA method (image segmentation), the same task would take only minutes per animal scan, with little to no risk of error.
"The National Institutes of Health (NIH) recently defined two major cornerstones of scientific investigation: rigor and reproducibility. QIA methods, because of their minimal reliance on user error or variability, are inherently capable of providing reproducible results. I strongly believe that our QIA services will contribute toward enhancing the quality of scientific results of our investigators, and support the NIH mission," says Dr. Chaudhari.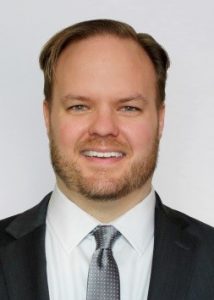 To spearhead the QIA services, Zachary T. Harmany, PhD, will join the center. Dr. Harmany has expertise in image reconstruction, processing, and analysis for biomedical research. He received a BS degree (magna cum laude, with honors) in Electrical Engineering and a BS degree (cum laude) in Physics from The Pennsylvania State University, and a PhD in Electrical and Computer Engineering from Duke University. Dr. Harmany's past research has involved image and signal processing, machine learning, large-scale numerical optimization, and development of novel methods for processing, visualizing, and analyzing imaging data. He is also a member of the UC Davis Data Science Initiative, a multi-disciplinary collaborative effort to foster and promote research and education related to Data Science and Big Data.
The initiation of QIA services was made possible via the Campus Research Core Facilities Enhancement Funding Program administered by the UC Davis Office of Research. The services will be available to UC Davis investigators on a recharge basis from March 1, 2017.
To know more or to discuss how QIA can be incorporated in your studies, please feel free to email cmgiimaging@ucdavis.edu or visit http://bme.ucdavis.edu/cmgi/.
---
February 28, 2017:     MALDI Biotyper Service Coming to UC Davis
The Campus Mass Spectrometry Facilities is pleased to announce the upcoming MALDI Biotyperservice to the UC Davis research community.  Biotyper is a relatively new, patented and FDA approved product which enables rapid (~5-10 min) identification of microbial organisms from microbial cultures using a MALDI mass spectrometer.
Once we have received training in the next few weeks, we will be offering this as both an open-access and single-sample service on our existing Bruker UltraFlextreme mass spectrometer.  In addition to libraries for most common bacteria, we also have purchased libraries for fungi and mycobacteria.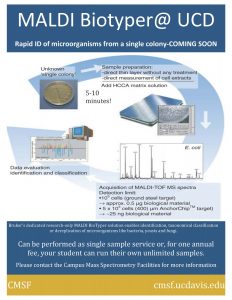 Please use the link below to take a closer look at the flyer;
Contact Dr. Armann Andaya and William Jewell if you have any questions.
---
February 23, 2017 :  Lattice Light Sheet Microscope Get's Upgraded
The last two weeks have seen major upgrades to the Lattice Light Sheet Microscope in the MCB Light Microscopy Imaging Facility which should allow this microscope to now be used on a routine basis.  This revolutionary design by Nobel Prize winner Eric Betzig — who is giving two Storer Lectures on campus this week — allows not-previously-possible long observations of living cells by applying extremely low doses of excitation light (illumination is only within the depth of focus of the observation lens).  Very preliminary measurements in the MCB LM Imaging Facility last week showed photo-bleaching reduced in the range of 20 to 80-fold.  This microscope is being developed for commercial release by a collaboration with Intelligent Imaging Innovations (3i) and the MCB LM Imaging Facility.  UC-Davis was one of 10 sites initially chosen for this collaboration because of the very large number of biological model organisms in the College of Biological Sciences.  This microscope is the only one of this design in an academic center west of Denver.
Images show the core optics of Lattice Light Sheet Microscope being moved to a new room and onto a larger optics table for the upgrades.   This microscope now is also controlled by 3i's "Slidebook" software, which makes the software interface much easier for regular users.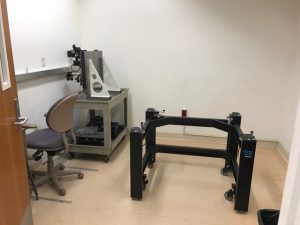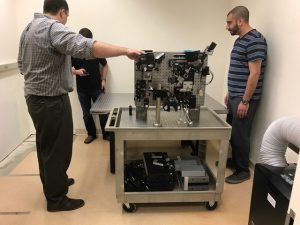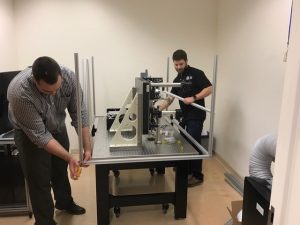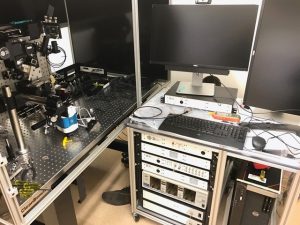 ---
Posted: February 10, 2017
Announcing a Bioinformatics Training Program Workshop 
So you want to do a: Microbial Community Analysis Experiment
Feb. 23, 2017, 10 a.m. –  noon
Location – UC Davis, Genome and Biomedical Sciences Facility Auditorium (GBSF Rm. 1005)
Contact – UC Davis Bioinformatics Core, training.bioinformatics@ucdavis.edu
This FREE workshop is intended for those who are interested in and are in the planning stages of conducting an experiment to study microbial communities using amplicon based methods (16S, ITS, etc.).  Topics to be discussed will include:
Experimental Design
The difference between Microbial Community Analysis and Metagenomics
Sample preparation, best practices
High throughput sequencing basics and choices
Cost estimation
Microbial Community Analysis
Data cleanup and quality assurance
Assigning reads to organisms and counting
Analysis of the output
Downstream analysis/visualizations and tables
For more information, and to register, go to: https://registration.genomecenter.ucdavis.edu/events/microbial-workshopFeb2017/.
Posted:  February 6, 2017
West Coast Metabolomics Center  – Pilot and Feasibility Projects
The 2017 call for Pilot and Feasibility Proposals is open with a submission deadline of March 16, 2017.
The NIH executive committee decision is expected by June 2017.
Please, start working with the WCMC on your metabolic aims and service budgets for your 2017 submission.
The following criteria and details are important to note for P&F application submissions.
Download the submission template here.
Submissions for maximum of $50,000 in metabolomic services.
One year maximum funding period
No salary support for investigator or investigator staff is permitted
No consumables or other financial support for the investigator's lab is permitted.
The budget is for WCMC metabolomic services.
Consult with WCMC advanced laboratories about budget estimates.
Budget for WCMC advanced service laboratory staff will go in increments of 1-person months plus consumables needed to perform the project.
For additional criteria and considerations please visit their website:
http://metabolomics.ucdavis.edu/pilot-and-feasibility-projects-1
Posted February 3, 2017
Video of the Informational Meeting on the NIH S10 Programs
Presented by: Julie A. Auger, Research Core Facilities Program
Posted:  January 27, 2017
Applications for Pilot Project Proposals using Advanced Imaging Modalities
We are looking for pilot projects that seek to address novel research applications using advanced imaging modalities such as sample/tissue clearing, multiphoton, intravital, and super-resolution imaging. Information on the equipment and services available can be found at the HSDAIF website (http://www.vetmed.ucdavis.edu/advanced-imaging/index.cfm).
 Purpose: The intent of the HSDAIF pilot project program is to provide an opportunity to develop new methodologies and obtain preliminary data with the goal of supporting new extramural funding applications. As such, funds may not be used to support established projects.
Eligibility requirements: Applicants must have Principal Investigator (PI) status or be supported by the PI (post-doctoral fellows, project scientists, and graduate students can apply but require the signature of their PI). Submissions from early career scientists and new users to the HSDAIF that are seeking preliminary data are particularly encouraged. This program is only open to NEW projects, with one submission per laboratory group. Members of the HSDAIF advisory board are not eligible to apply.
Funds available: Selected applications will be awarded $1000 in imaging time, with technical assistance available free of charge.
Application procedure: Applications should be no more than 2 pages single spaced 0.5 inch margins in Arial font size 11. Applications must include a project summary (one paragraph), specific aims, innovation, approach, future directions and intent to secure future extramural funding. All applications must be submitted as a single PDF by email to creardon@ucdavis.edu by 5pm on March 3, 2017, including coversheet (pg.2).
Review Criteria and process: Applications will be reviewed by the director and facility manager of the HSDAIF and scored on an NIH scale of 1-10 based on (2) Scientific merit (scientific significance, approach, innovation), (2) technical innovation, (3) likelihood of the project producing preliminary data, (4) early stage investigator, (5) new HSDAIF user.
Selected applicants will be contacted by email. Projects can start on April 1, 2017 and must be completed by December 31, 2017.
For questions, more information, or technical consultation, contact Ingrid Brust-Mascher at ibrustmascher@ucdavis.edu
Posted:  November 22, 2016
Cellular and Molecular Imaging Core 3D Microscope Demonstration
The Cellular and Molecular Imaging Core in the Center for Health and the Environment will be hosting a microscope demonstration at CHE on December 9th.  For additional information contact Patti Edwards. 
flyer – nanolive workshop UCD[1]
Posted:  September 9, 2016
Metabolomics Core:  Pilot & Feasibility Program Applications sought.
The UC Davis Metabolomics core is establishing new services in stable isotope tracer and flux studies and is seeking a cohort of researchers with projects to assist in the development of these services.  As such, they have released a call for Pilot & Feasibility Project Applications.  Research areas may span biotechnology, agricultural research, cancer and biomedical studies, mechanisms in chemistry, pharmaceutical questions and other areas that involve small molecules.  See the links for the Program Call and the Submission Form below for more information.  Applications are due October 10, 2016.
The Pilot & Feasibility Program is funded by a recent investment in the Metabolomics Facility by the Research Core Facilities Program.
Metabolomics Core Call for Pilot & Feasibility Projects
Metabolomics Core P&F Project Submission Form (.docx file)
Posted: August 23, 2016
Research Core Facilities Program invests $2.1 million in designated facilities
The Research Core Facilities Program (RCFP), launched in 2015 by the Office of Research, is pleased to announce the recipients of $2.1 million in new funding to help strengthen the research infrastructure at UC Davis.
In its first year of operation, the RCFP developed the Campus Research Core Facilities Enhancement Funding Program to make strategic investments in shared research facilities. The goal of this program was to make funding available to support upgrades to instrumentation and the development of new research services to serve faculty, staff and students across the campus.
A request for proposals was issued in April 2016 to the 17 facilities that were recently designated as Campus Research Core Facilities (CRCF).
The following 11 proposals were approved for funding:
Short Term, High Impact Salary Support to Bring Two Fully-Funded, Game-Changing Microscopes Online, Light Microscopy Imaging Facility
Development and Implementation of Ultra-Long-Read Sequencing Protocols, DNA Technologies Core
Acquisition of an LC-Triple Quadrupole Mass Spectrometer for Open-Access Quantitative Analysis, Campus Mass Spectrometry Facility
Purchase of a New Cryoplatform for an Existing 600 MHz Nuclear Magnetic Resonance system, Nuclear Magnetic Resonance Facility
Request for Transmission Electron Microscope, BioEM Facility
Image Analysis Core for CMGI, Center for Molecular and Genomic Imaging
Applications Scientist to support new NIH Funded Orbitrap Fusion Mass Spectrometer, Proteomics Core
Operational Support for the Flow Cytometry Shared Resource, Flow Cytometry Shared Resource
Enhancing Keck Spectral Imaging Facility through Equipment Upgrade, Keck Spectral Imaging Facility
Establishing a UC Davis community for stable isotope tracer and cellular metabolism studies, Metabolomics Core
Acquisition of a Triple Quadropole ICP-MS for Advanced Research in the UC Davis Interdisciplinary Center for Plasma Mass Spectrometry, Interdisciplinary Center for Plasma Mass Spectrometry
A competitive review process was designed in close collaboration with the Research Core Advisory Council and the Academic Senate. Reviews of each proposal were conducted by at least three individual faculty, followed by a ranking of all proposals received during a panel discussion. Review criteria included a clear justification of how the proposed investment would strategically improve research infrastructure, accessibility and quality of service. In addition, facilities were required to demonstrate financial need for the requested resources.
The RCFP is now moving into its second full year of operations. The program anticipates a second call of applications for designating shared resource facilities that meet the established criteria. Another round of grants is also anticipated during the next fiscal year to meet the large demand for consolidated, high-quality research services for both on and off-campus users.
"It is tremendously gratifying to provide this first round of awards to our research core facilities that serve the largest number of faculty, staff and students across campus. These awards will significantly improve faculty competitiveness for extramural funding and will provide new opportunities for student training on state-of-the-art instrumentation," said Harris Lewin, Vice Chancellor for Research.
"My congratulations and thanks to Director van Benthem, faculty and staff who worked so carefully and collaboratively to implement the strategic vision of this program."
Posted:  April 21, 2016 
Imaging Flow Cytometry: Free Hands-on Workshop
When: May 2nd, all day (to sign up contact Katherine Ralston at ksralston@ucdavis.edu)
Where: MCB Imaging Core
What: Work with a specialist, one-on-one, run your own samples or discuss your potential applications
Software Demo
When: May 2nd, 9 am-4:30 pm (no sign-up required)
Where: GBSF Lobby
What: Learn about the new imaging cytometer now available in the MCB imaging core. Demo associated with the symposium "Game Changing Microscopy Across Biological Size Scales"
Posted: April 21, 2016 
You are invited to the following event:
GAME-CHANGING MICROSCOPY ACROSS BIOLOGICAL SIZE SCALES AT UC DAVIS
Monday, May 2, 2016 from 9:00 AM to 5:00 PM (PDT)
GBSF First Floor Auditorium
Davis, CA 95616
Join us for a day-long symposium to hear about the exciting new research being conducted on campus that is made possible with advanced light microscopy techniques. This event is open to the entire UC Davis scientific community to stimulate new collaborations and the exchange of ideas.   
We hope you can make it! RSVP here.
Cheers,
MCB Imaging Core & HSD Advanced Imaging Facility
Posted:  April 11, 2016
RNA-Seq Workshop – Library Preparation and Introduction to Data Analysis
May 10, 2016, 9 a.m. – May 12, 2016, 9 a.m. to 6 p.m.
Please see this page for the full information and the registration: 
https://registration.genomecenter.ucdavis.edu/events/DNATech_RNASeq_May_2016/
RNA-seq has revolutionized the way we address complex biological questions, allowing for differential gene expression, differential transcript analysis, as well as transcriptome assemblies. As sequencing output rapidly increases and sample numbers increase, library preparation becomes one of the major bottlenecks. This workshop provides comprehensive hands-on training in the preparation of high quality RNA-Seq libraries for the Illumina platform. Participants will generate two types of RNA-seq libraries: one using poly-A enrichment and one using ribo-depletion. The former protocol is preferred for high quality eukaryotic RNA samples.  The latter is required for bacterial RNA-seq and fragmented RNA samples.  Lectures will cover the entire workflow including sample QC/QA, as well as the basic principles of Illumina technology and considerations for experimental design meeting current publication standards.  Approximately 6 hours will be spent on data analysis, presented by the Bioinformatics Core, and will include an introduction-to/demo-of RNA-seq data QA/QC, preprocessing, read mapping, gene counting as well as a hands-on-exercise on Differential Expression Analysis in R with previously computed gene counts tables.
Organizer – DNA Technologies Core 
Launch of New Tool to Search for Instruments and Services
The Research Core Facilities Program has developed a dynamic database to assist researchers with finding instruments and services at laboratories across the campus. This tool provides inventory for over 450 devices and tests, searchable by keyword. The list of equipment will continue to grow as more facilities are added to the database.
Seventeen Labs Designated as Campus Research Core Facilities at UC Davis
The RCFP has initiated a process to designate certain laboratories across the university that provide shared research services as Campus Research Core Facilities. This designation provides a strategic platform to ensure state-of-the-art research capabilities are provided in a cost-efficient manner. The designated laboratories are expected to develop and represent best practices for core facility operation and emerge as centers of excellence for the university.Each lab designated as a Campus Research Core Facility will receive dedicated support from the program, including access to facility management software, marketing, and assistance with external contracting and negotiations. In addition, each facility is eligible for financial support for personnel and equipment. A list of the new designated CRCFs can be found here.The facilities were selected from 26 applications received in response to a campus-wide solicitation. An independent review panel consisting of faculty representing each college and professional school evaluated the applications. One key criterion for the core facilities is that they demonstrate a broad interdisciplinary impact, serving researchers from at least three colleges or professional schools.This initial group will serve as the model cohort in developing an improved support structure for shared research facilities at UC Davis. Opportunities for additional facilities to apply for the designation will be made available in the future.
Demo of Two Microscopes:  Health Sciences District Advanced Imaging Facility – March 15-25.  See the flier for technical details and to schedule a demo.
December 11, 2015: Save the date for a technical workshop:
"Preparing for Single Cell Genomics – Tips, Tricks and Secret Hacks to Improve your Success"
Friday December 11, 2015
UCDMC 10 a.m.-11:30a.m.
Davis 1:30 p.m.-3:30 p.m.
Hosted by:
UC Davis Flow Cytometry Shared Resource
DNA Technologies Core at the UC Davis Genome Center
Fluidigm Corporation
December 4, 2015: a Request for Application has been issued to apply for the designation of Campus Research Core Facility. Please follow this link for more information about the application and review process.
September 30, 2015: First meeting of the newly established Research Core Advisory Council (RCAC).