Quick Overview: Proposal and Award Process
Content on this page:
Need to Know
When is a proposal required to be routed through the Sponsored Programs Office for review and approval?
University policy requires that proposals in any form — letters of intent (LOIs), preliminary proposals (pre-proposals), white papers, full proposals, supplemental requests, etc. – be submitted to the Sponsored Programs Office for review and approval prior to being submitted to a sponsor (organization or entity) when the sponsor requires:
a budget
agreement to terms and conditions (at that phase)
institutional approval, endorsement or signature
This requirement is broadly defined in UCOP policy UC-RG-12-0014. Submit materials for internal routing in Cayuse SP (https://ucdavis.cayuse424.com/). Detailed instructions may be found in the Handbook for Department Contract & Grant Staff, Principal Investigators and Approvers.
Proposal Timeline (at a glance)

The Sponsored Programs Office is open from 8:00 am to 5:00 pm. All proposals must be submitted to sponsors before 5:00 p.m., even if the sponsor has listed a later submission time.
Proposal Review Types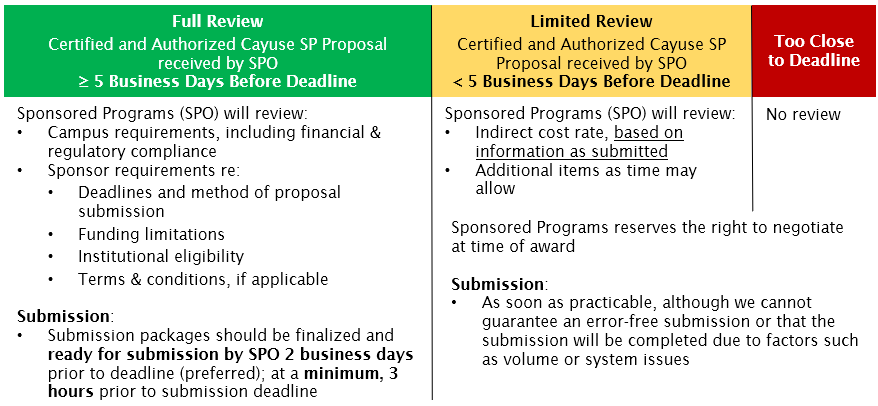 Proposal and Award Process at UC Davis
Contract & grant administration is a 4-step process that involves several electronic research administration (eRA) systems:

1. PI (w/ dept assist) prepares and routes proposal in Cayuse SP for internal review and approvals:
PI certification
Dept Head (& Dean's office) authorization
Sponsored Programs Office (SPO) reviews proposals for regulatory compliance and adherence to UC policy (PI/dept. responsibilities)
2. PI (w/ dept assist) prepares separate proposal for external submission to sponsor:
SPO reviews for campus & sponsor compliance
In most cases, SPO submits proposal to sponsor
3. When a Notice of Award is received from a sponsor, SPO:
Reviews terms and conditions for conformity with UC policy and PI concurrence
Negotiates as needed
Accepts award
Issues outgoing subawards
Processes amendments & advance accounts
4. PI (w/ dept assist) submits reports and disclosures to sponsor
Contracts and Grants Accounting (CGA) provides fiscal oversight, additional reporting, and coordinates with auditors
Cayuse SP and Cayuse 424 are two separate modules in a licensed external vendor system: Cayuse Research Suite
Although Cayuse 424 is used to submit applications to most Federal (and some other) sponsors (as a system-to-system substitute for grants.gov (Workspace)), some sponsors require submission through their stand-alone eRA systems. See Electronic Systems – eRA
The Sponsored Programs Office reviews all submissions, even those to be submitted by a PI through a non-Cayuse system.
Submit to
NIH
in either Cayuse 424 or
ASSIST

Always
submit to
NSF
in
Research.gov
(or NSF FastLane)

Always
submit to
NASA
in
NSPIRES

FedEx, Mail or Email: Some sponsors may require submission another way.
Application Phases and Types
Minimum Proposal Documents for SPO Review
The proposal routed via Cayuse SP for internal review need not be finalized, but SPO requires these four documents to assign an analyst to work with you in reviewing/finalizing the submission.
Completely Routed and Authorized Internal Processing Form (IPF)
Budget Spreadsheet – Strongly encouraged even if NOT required by the sponsor
Budget Justification – Strongly encouraged even if NOT required by the sponsor
If budget and/or justification are not required by sponsor and will not be submitted to SPO, indicate this with a Submission Note in Cayuse SP.
Detailed Proposal Timeline for PIs and/or Dept Admins
Note: The steps below, when relevant, are also applicable to Letters of Intent (LOIs) and Pre-Proposals.
Note: Federal sponsors recommend proposals/applications be submitted two (2) business days prior to indicated deadline to allow time to resolve technical issues or submission errors.

Read sponsor guidelines thoroughly (some sponsors have multiple sets of guidelines to abide by).

Note institutional eligibility. UC Davis is an Eligible Applicant Institution as follows (assuming it meets other eligibility requirements):

Institutions of Higher Education (IHE); Public Institutions of Higher Education; 1862 Land Grant Universities; Non-Profit Institutions; 501c3

Note PI eligibility.

If PI is eligible per the sponsor but does not have PI eligibility at UC Davis, submit Request for Exception Form 105 to the Sponsored Programs Office (SPO) with the proposal.

PI and/or Dept Admin are specifically responsible for ensuring all required components are included and that formatting requirements are met (Table of Contents, page margins, font/pitch, line spacing, characters per inch, page limitations, spelling and grammar).

Some components may be required based on the project scope:

i.e., Human or animal subjects, use of pathogenic materials, international involvement

Consider using the Call for Proposals Checklist
Begin proposal in Cayuse SP to route internally for PI certification, Dept/Dean authorization, Sponsored Programs Office (SPO) review and (institutional) approval.

Before routing the proposal (electronic Internal Processing Form (IPF) + attachments) in Cayuse SP for approvals:

Review the List of Approving Units in the Cayuse SP Approving Units tab.

Be certain that every unit and/or campus resource involved with (or used by) the proposal is listed before submitting the proposal for routing. Failure to include all affected resources/units may result in having to reroute for approvals.

In the Cayuse Research Suite, select Research Contacts under System Administration Applications, enter all the Approving Units and confirm that an IPF Approver is identified for each.

A missing IPF Approver could hold up the routing.

Ensure either PI or Dept Admin will be available to respond to SPO's review of the certified/authorized proposal.

Route proposal in Cayuse SP 10 to 14 business days ahead of the sponsor deadline to ensure the certified/authorized documents arrives in SPO at least 5 to 7 days before deadline.
It's good practice for the PI to immediately certify the IPF
Monitor routing to ensure no holdups.
To speed process, copy details from the Cayuse SP IPF into the electronic Research Administration (eRA) system (e.g., Cayuse 424) that will be used for submission to the sponsor.

Your assigned SPO analyst will contact you with feedback following their review of the certified/ authorized IPF.

Incorporate their feedback into the proposal in the eRA system to be used for submission (e.g., Cayuse 424)

Note: if you didn't start the proposal in the submission eRA system earlier, now is the time to do so.

Attach any missing documents

If necessary, provide your SPO Analyst access to the sponsor eRA system

SPO reviews all submissions from UC Davis, even those required by the sponsor to be submitted by the PI.

Finalize the proposal package in the submission eRA system

If necessary, update the finalized Scope of Work

SPO (usually) submits proposal to sponsor
Detailed Award Timeline for PIs and/or Dept Admins

If you receive a Notice of Award (NOA), immediately forward a copy to SPO at awards@ucdavis.edu along with your Cayuse SP proposal number (so they can link it to the award).

Review the requirements and restrictions in the contract or grant award agreement.

If any terms or conditions are unclear, it is the PI's responsibility to contact SPO for clarification and guidance.

Notify SPO of any problematic terms or conditions

Ensure the Scope of Work in the agreement is accurate
Ensure the deliverables are acceptable

Make note of important conditions including reporting deadlines, unallowable costs, areas that may require prior approval such as re-budgeting or no cost time extensions, publications that may require sponsors review prior to dissemination, etc.

Work with the Contracts and Grants Accounting (CGA) office on the establishment of a specific account and fund number for the project.

Regularly monitor the award to ensure adherence to award terms and conditions.

Financial Ledger Reviews should be performed at least once a month.
Principal Investigators and others committing effort must certify that effort afterthe effort has been expended.