Repository of Best Practices for Core Facilities at UC Davis
https://ucdavis.box.com/s/h1e36xpho225694prcjn5fb223kz6bvw
---
CRCF Pilot and Feasibility Program
Program Overview:
The goal of the Pilot and Feasibility Program (PFP) is to strengthen the long-term sustainability of Campus Research Core Facilities (CRCF) by encouraging new utilization by UC Davis researchers or the trial of new technologies or approaches by UC Davis researchers through provision of pilot or feasibility awards.
The RCFP, RCAC and CRCFs work jointly to identify funding recipients. Awards are issued quarterly and must be spent within 6 months of the award date. Preference is given to pilot projects and feasibility studies that will generate long-term use, preliminary data for a new extramural grant or manuscript submissions.
In cases where a CRCF has an existing pilot award program, the RCFP co-funds proposals in collaboration with the existing CRCF pilot award program. Awards are offered to fund proposals which are reviewed favorably by both programs.
Eligibility Criteria:
Proposals must comply with all eligibility criteria in order to progress to competitive review.
Investigator must be a member of the Academic Senate OR Academic Federation
Investigator must be a new user of CRCF OR utilizing newly developed service in CRCF
Services outlined in CRCF estimate must be part of CRCF enrolled services list
Investigator must not have outstanding PFP award at time of application submission
Investigator and Applicant must not be CRCF Director or Staff
Proposal Types:
The Pilot & Feasibility Program supports short-term Pilot Projects and Feasibility Studies, defined for the purposes of the program as:
Pilot Project: A small pilot project to generate an appropriate preliminary data set for inclusion in an upcoming extramural funding application (or similar). Pilot project awards are not intended to fund ongoing research or full-scale research projects.
Feasibility Study: A feasibility study to determine if a service or technology available at a core facility is able to meet the needs of a current or upcoming longer term project. Feasibility study awards are not intended to contribute to the creation of new techniques or services at the core facility.
Resources:
Review Frequently Asked Questions
Preview Application Questions
Participating CRCFs:
Biological Electron Microscopy Facility
Campus Mass Spectrometry Facilities
The Center for Molecular and Genomic Imaging
Flow Cytometry Shared Resource
Health Sciences District Advanced Imaging Facility
Keck Spectral Imaging Facility
West Coast Metabolomics Center
 Award Schedule:
| | |
| --- | --- |
| March 2, 2018 | Investigator Application Available |
| March 23, 2018 | Round 1 – Investigator Application Deadline |
| | |
| June 15, 2018 | Round 2 – Investigator Application Deadline |
| | |
| September 14, 2018 | Round 3 – Investigator Application Deadline |
| | |
| December 14, 2018 | Round 4 – Investigator Application Deadline |
| | |
Please direct all questions to dmporter@ucdavis.edu.
Applications are currently closed.
---
Research Core Facilities Program  Annual Progress Report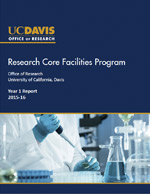 This report summarizes the Research Core Facilities Program key initiatives and outcomes for the fiscal year 2015 – 2016.
---
Core Facilities Mailing List
The Research Core Facilities Program (RCFP) has established a mailing list to disseminate program updates and announcements. This tool also enables research core facilities across campus to communicate best practices.
How to sign up:
UC Davis users log in at lists.ucdavis.edu
In the "search lists" box type "core facilities"
Select the list from the right-hand box and follow subscription prompts
---
Designation as Campus Research Core Facility (CRCF)
RCFP is soliciting applications from shared scientific resource facilities at UC Davis who wish to be considered for the designation of "Campus Research Core Facility." Only facilities that offer access to expert personnel and state-of-the-art instrumentation and services that serve a large, multi-college/school user base will be given this designation. This designation is the first step in a multi-year program of strategic campus investments in scientific core facilities and in the upgrade and professionalism of services that are central to the research mission of UC Davis.
Additional Information: please visit our page on FAQ
Why become a Campus Research Core Facility?
Recognition campus-wide as a model of core facility excellence translating into increased success in national funding opportunities.
Eligibility to apply for financial support from RCFP/OR (e.g. personnel, equipment, maintenance, …)
Access to core facility management software at subsidized cost
Marketing support through OR and special recognition on the RCFP webpage
Opportunity for showcasing of CRCFs during the annual Office of Research Open House ("Core Expo")
We are currently not accepting new applications, but anticipate to open a new call in Fall 2017. Until then please review the recently used application package and review criteria in the following.
Recently used Application Package: RFA as Campus Research Core Facility
The application package contains the following three files:
Request for Application
Application template (MS-Word file)
Appendix for application (MS Excel file)
Eligibility Criteria
Shared Resource Facilities on campus are eligible for the designation as Campus Research Core Facility when they …
provide equitable access to all users
are professionally managed
each year serve users from 3 or more colleges or professional schools
have campus-approved recharge rates in place
Review Process: The procedure followed to review the submitted applications is designed to provide a fair and transparent process to identify the best Campus Research Core Facilities that our campus has to offer, while eliminating any potential conflicts of interest.
All applications will initially be checked to fulfill the eligibility criteria outlined above and in the Request for Applications document. In the rare cases that eligibility is not fulfilled applications will be returned without additional review alongside an appropriate explanation by RFCP staff. After this initial screening applications will be evaluated based on the formulated Expectations & Requirements for CRCFs outlined in the appendix of the Request for Applications. Key criteria are a multi-college/school user base, professional management and planning both financially and operationally by consideration of best practices, and strategic importance for the research mission of UC Davis. Each application will be evaluated by 3 anonymous reviewers assigned by RCFP staff, i.e., Faculty director Klaus van Benthem, Associate Director Julie Auger and RCAC Chair Mani Tripathi. Each reviewer will write a short (<200 words) summary and score the following categories: (i) strategic impact (ii) utilization (user base), (iii) management & operations, (iv) training activities, (v) strategic planning. Afterwards, the Research Core Advisory Council (RCAC) will rank proposals according to scores and written summaries and make recommendations for designations as CRCFs to the Faculty Director. For each application RCAC will provide an Evaluation Summary that will be returned to the applicants after the review process has concluded.
To ensure informed decision making, RCAC may seek input from on-campus subject matter experts while recognizing potential conflicts of interest during the review process. During the review RCAC may invite applicants for a 10 minute Question & Answer session.
Please contact Julie Auger, Executive Director of Research Core Facilities Program if you have any additional questions.
Office 530-754-1272
Mobile 530-601-8104
jauger@ucdavis.edu
---
CRCF Enhancement Funding Program
The Enhancement Funding Program was designed to make strategic investments in shared research facilities, with the goal to support upgrades to instrumentation and the development of new research services serving faculty, staff and students across the campus.
Eligibility Criteria
Only facilities designated a CRCF are eligible to request funding through this program.
CRCFs currently designated "provisional" need to meet the requirements for full designation before funding will be approved.
Evaluation Criteria and Requirements
Funding requests must be justified based on a demonstrated scientific, operational or strategic need.
There must be demonstration that the facility does not have the funds to purchase on their own, including documentation of previous attempts to obtain funding from off-campus agencies (for new equipment) if available.
Applicant must provide justification how the investment will enhance the research mission of UC Davis. Simple statements that the requested instrumentation/service is currently not available on campus are not sufficient.
Requests for support of general maintenance or maintenance contracts must provide a cost analysis and justification why such costs cannot be covered by appropriate recharge rates.
If the unit operating account is currently in deficit, funding will be contingent on development of an MOU between OR, the CRCF and its current governing department with the intent to reduce current debt over the next three years.
Funding requests to eliminate past accumulated debt are not allowed.
Facilities that have received direct support from central campus sources (e.g., OR, ACCD) in the past need to present a detailed table of that support together with an explanation of the impact of those investments.
Review Process
All proposals received will undergo a confidential peer-review process approved by the Research Core Advisory Council (RCAC) and the Vice Chancellor for Research. To avoid any potential conflicts of interest, candidates who are directly involved with any submitted proposal for this call will be excluded from the review and recommendation process.
To ensure informed decision making, the RCFP may seek additional input from on-campus subject matter experts avoiding potential conflicts of interest during the review process.
Proposal Submission
We are currently not accepting new proposals, but anticipate to open a new call for proposal s during the Academic Year 2016-17.