Campus Mass Spectrometry Facilities Updates
The Campus Mass Spectrometry Facilities (CMSF) under the Office of Research is proud to announce the acquisition of our newest mass spectrometer, a Bruker UltraFlextreme MALDI TOF/TOF.  This instrument is the result of a NIH SIG award, and it is now installed in our Hutchison facility.  It is extremely easy to use and is available to the UC Davis research community as an open-access instrument or on a per-sample basis.
It's currently being used to measure the following types of molecules: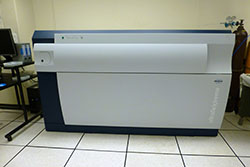 Peptides & glycopeptides
Proteins (up to 500 KDa)
RNA/DNA  (up to 40-50mers)
Lipids
Oligosaccharides
Polymers
Fullerenes
It is capable of accurate mass, can do tandem MS (MS/MS) and is very fast with a 2KHz laser.
The instrument is also capable of Bruker Biotyping, the FDA approved rapid ID of microorganisms with the addition of some software and libraries.
Please contact Dr. William Jewell at wtjewell@ucdavis.edu with any questions or see the Campus Mass Spectrometry Facilities website for additional details.
The acquisition of this equipment was made possible by receipt of an NIH Shared Instrumentation Grant (SIG) award led by Julie Leary, professor of molecular and cellular biology and founding faculty director of the Campus Mass Spectrometry Facility.  This was the third SIG awarded to the facility during Julie's tenure as Faculty Director, who recently announced her retirement.  Julie's leadership has been instrumental in bringing state-of-the-art technologies to campus and in making those technologies available to the UCD research community.
Carlito Lebrilla, professor of chemistry has been appointed to succeed Julie. Carlitto's research focus is in the development of analytical tools based on advanced separation and mass spectrometry in two areas—nutrition and diseases. His group is developing mass spectrometry based tools for the discovery of markers for cancer including ovarian, breast, and prostate and are pioneering the glycomic approach for the early diagnosis of cancer. In nutrition they are examining human milk as the model for the perfect food and determining bioactive components in milk.